Совиный дом
Персонажи
Поиск персонажей
Группы персонажей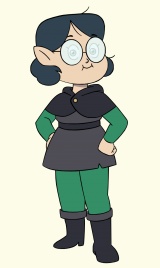 Подруга Луз. Ученица школы Хекссайд. Очень хороша в растительной магии. В детстве была лучшим другом Эмити.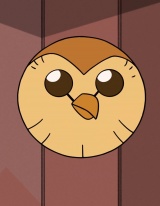 Странное существо, контролирующее и защищающее Совиный дом. Его лицо обычно находится на входной двери, но он может вытягивать его на большое расстояние.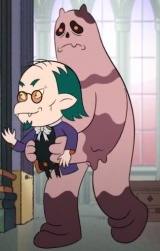 Один из учителей школы Хекссайд.
Hunter (The Golden Guard)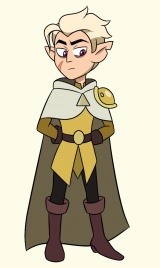 Молодой и талантливый член императорского клана. Правая рука императора. Способен к мощной магии с помощью своего посоха, но испытывает большие проблемы с колдовством без него.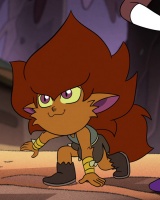 Глава клана обращения с монстрами. Зачастую ведет себя как настоящее животное. Пол неизвестен.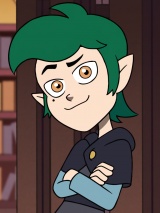 Старший брат Эмити. Есть сестра-близнец Эмира.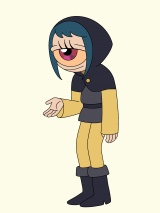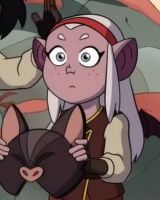 Член отряда «Барды против трона».
Сначала весьма настороженно относилась к Иде, но затем привыкла и даже называла ее мамой.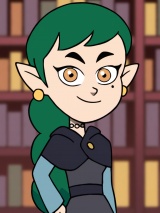 Старшая сестра Эмити. Имеет брата-близнеца Эдрика.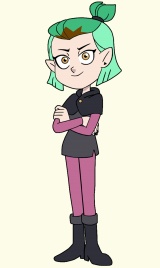 Лучшая ученица школы Хекссайд. В детстве дружила с Уиллоу, но поссорилась с ней из-за давления родителей. На самом деле, Эмити добрее, чем кажется.
Совиный дом
Совиный дом: прочие персонажи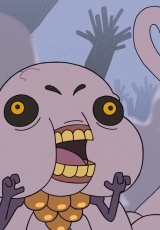 Монстр, приманивающий жертв с помощью правдоподобного кукольного шоу. В своем истинном обличье он — большой, светло-лиловый осьминог, у которого есть и щупальца, и руки.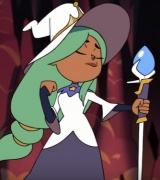 Главная героиня любимого книжного цикла Луз. Как ни странно, книги с ее участием существуют как в мире людей, так и на Кипящих островах.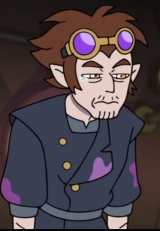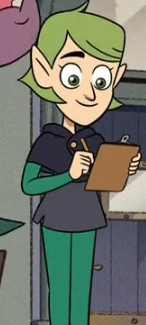 Ученица Хекссайда. Дружит с Бошей. Входит в состав школьной спортивной команды.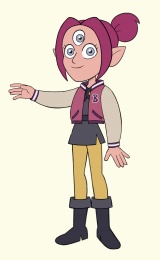 Капитан спортивной команды Хекссайда. Грубая и нахальная ведьма.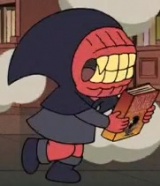 Ребенок, имеющий устрашающую, но вполне обычную для Кипящих островов наружность. Он входит в группу детей, которые посещают библиотеку Боунсборо. Сын надзирателя Гнева.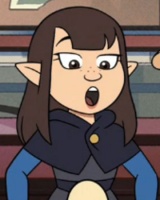 Фоновый персонаж. Одна из учениц Хекссайда.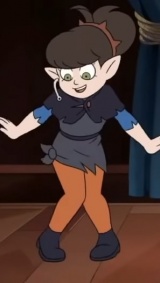 Ученица, наказанная за смешивание магии. Позже ей было разрешено одновременно изучать и целительную магию, и обращение с монстрами.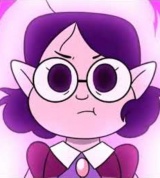 Персонификация подсознания Уиллоу. Внутренняя Уиллоу обладает способностью проникать, разрушать и уничтожать части или целые воспоминания.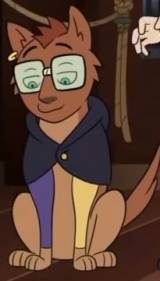 Ученик, наказанный за смешивание магии. Позже ему было позволено одновременно изучать и магию оракулов, и зельеварение.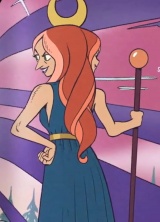 Ранее враг, а позже сторонница Азуры. Азура бросает ей вызов на дуэль ведьм в книге, которую Лус показывает Кингу в эпизоде «Кланференция».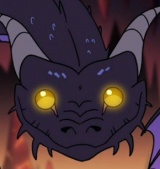 Монстр, с которым сражается Азура.
Grometheus the Fear Bringer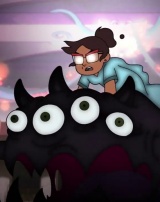 Демон, обитающий под школой Хекссайд. Способен принимать облик худшего страха своей жертвы.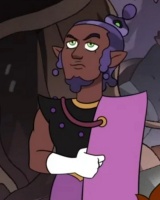 Глава клана мерзкой магии. Несмотря на должность, отличается брезгливосью.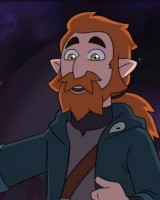 Отец Иды и Лилит, муж Гвендолин.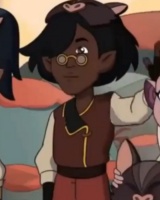 Один из членов отряда «Барды против Трона»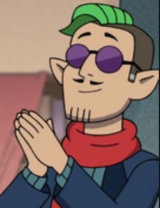 Автор «Кипящих островов». Один из авторов, сжатых Пиньетом в кубик.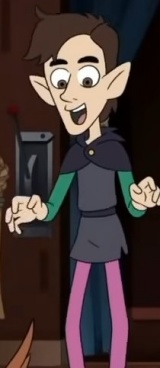 Ученик, наказанный за смешивание магии. Позже ему было позволено одновременно изучать и растительную, и мерзкую магию.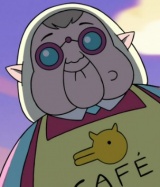 Коллега Розель. Кажется милой, но на самом деле очень агрессивна.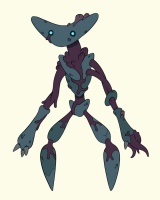 Жуткое существо, предназначенное для защиты Короля.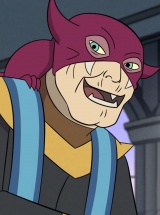 Директор школы Хекссайд.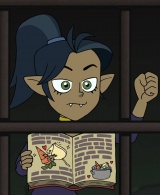 Ведьма, попавшая в тюрьму за написание странных фанфиков. Впоследствии она убегает оттуда в суматохе битвы Иды с Надзирателем Гневом.
Состоит в отряде «Барды против трона»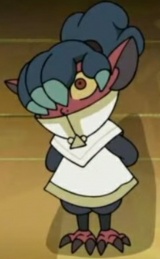 Ассистентка императора Бэлоса, которая передает его приказы другим подчиненным, а именно Лилит. Она также выступает гидом для посетителей Императорского замка.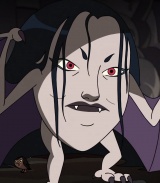 Сильный демон. Имеет много денег и троих детей.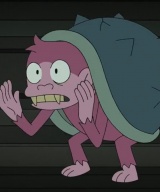 Монстр, описанный в некоторых книгах, как самый сильный демон на Кипящих островах. Но на самом деле он весьма безобиден.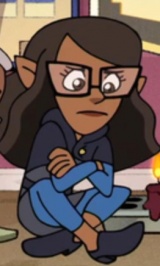 Девушка из окружения Боши. Ученица Хекссайда. Член школьной спортивной команды.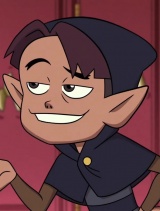 Не самый прилежный ученик Хекссайда. Жаждет власти.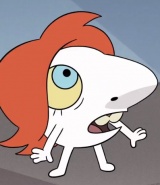 Странное существо, периодически появляющееся на фоне. Сидела в тюрьме за любовь к конспирологии. Является самокарикатурой автора идеи сериала Даны Террас.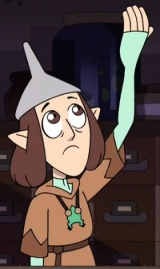 Продавец эликсиров. Совиная Леди является его постоянным клиентом.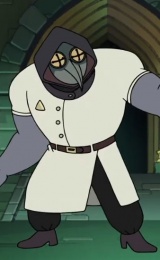 Начальник главной тюрьмы Кипящих островов. Отличается жестокостью. Пытался пригласить Иду на свидание, но безуспешно.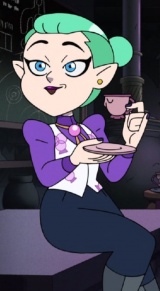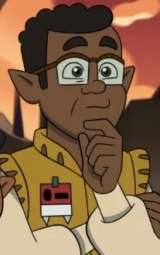 Отец Гаса. Работает телеведущим.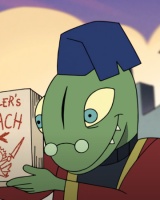 Издатель, превращающий авторов, пишущих сиквелы к своим книгам недостаточно быстро, в маленькие кубики.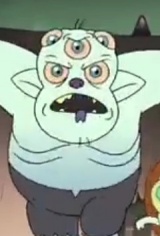 Монстр, попавший в тюрьму за поедание собственных глаз.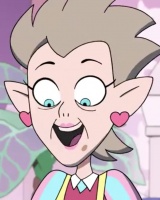 Ведьма, работающая в Кошачьем кафе. Ловит маленьких демонов и удерживает их в своем заведении, пока те не сходят с ума.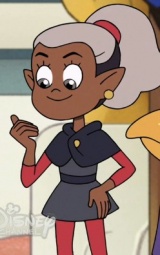 Ученица Хекссайда. Подруга Боши. Член школьной спортивной команды.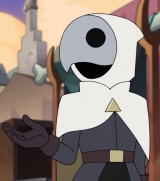 Солдат из императорского ковена.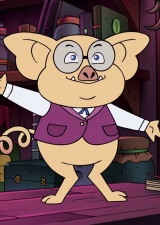 Успешный торговец-капиталист. Несколько раз ему удавалось поймать Иду.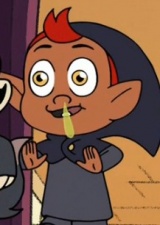 Ребенок, играющий в царя горы лучше, чем Король.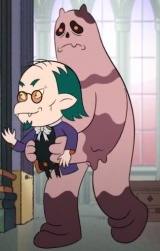 Один из учителей школы Хекссайд.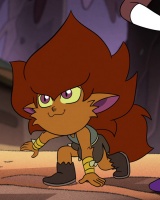 Глава клана обращения с монстрами. Зачастую ведет себя как настоящее животное. Пол неизвестен.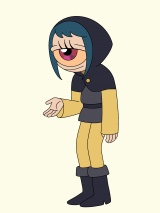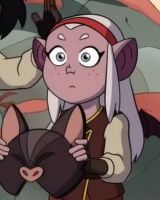 Член отряда «Барды против трона».
Сначала весьма настороженно относилась к Иде, но затем привыкла и даже называла ее мамой.
Совиный дом
Персонажи
Поиск персонажей
Группы персонажей
Augustus Porter (Gus)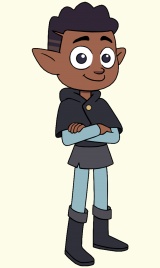 Друг Луз и Уиллоу. Ученик школы Хекссайд. Изучает магию иллюзий. Мастер ораторского искусства.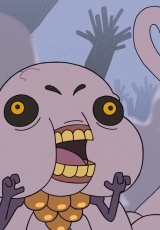 Монстр, приманивающий жертв с помощью правдоподобного кукольного шоу. В своем истинном обличье он — большой, светло-лиловый осьминог, у которого есть и щупальца, и руки.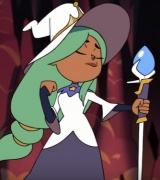 Главная героиня любимого книжного цикла Луз. Как ни странно, книги с ее участием существуют как в мире людей, так и на Кипящих островах.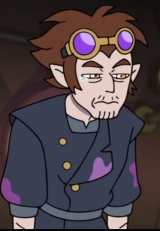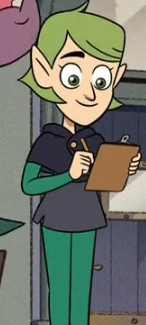 Ученица Хекссайда. Дружит с Бошей. Входит в состав школьной спортивной команды.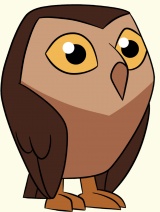 Деревянный тотем на посохе Иды. Иногда оживает и помогает своей хозяйке воровать человеческие вещи, либо просто играет с ней в карточные игры.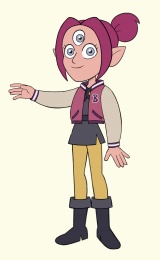 Капитан спортивной команды Хекссайда. Грубая и нахальная ведьма.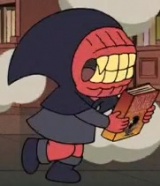 Ребенок, имеющий устрашающую, но вполне обычную для Кипящих островов наружность. Он входит в группу детей, которые посещают библиотеку Боунсборо. Сын надзирателя Гнева.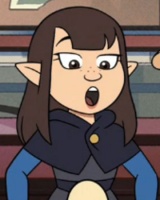 Фоновый персонаж. Одна из учениц Хекссайда.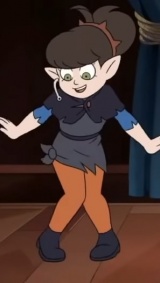 Ученица, наказанная за смешивание магии. Позже ей было разрешено одновременно изучать и целительную магию, и обращение с монстрами.
Василиск с кипящих островов. Сбежала в мир людей и долгое время притворялась Луз.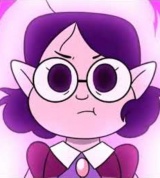 Персонификация подсознания Уиллоу. Внутренняя Уиллоу обладает способностью проникать, разрушать и уничтожать части или целые воспоминания.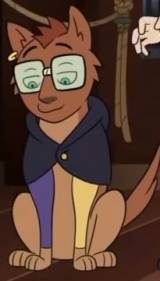 Ученик, наказанный за смешивание магии. Позже ему было позволено одновременно изучать и магию оракулов, и зельеварение.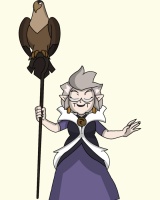 Мать Иды и Лилит. Всеми силами пыталась вылечить проклятие дочери, используя весьма сомнительные методы.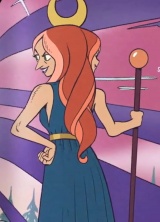 Ранее враг, а позже сторонница Азуры. Азура бросает ей вызов на дуэль ведьм в книге, которую Лус показывает Кингу в эпизоде «Кланференция».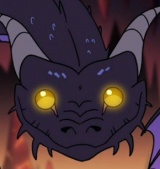 Монстр, с которым сражается Азура.
Grometheus the Fear Bringer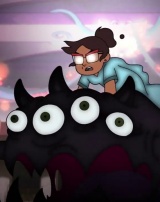 Демон, обитающий под школой Хекссайд. Способен принимать облик худшего страха своей жертвы.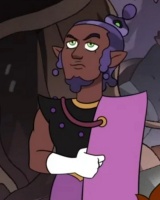 Глава клана мерзкой магии. Несмотря на должность, отличается брезгливосью.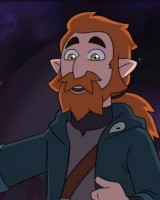 Отец Иды и Лилит, муж Гвендолин.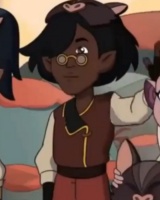 Один из членов отряда «Барды против Трона»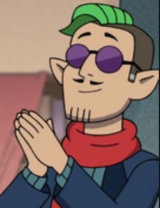 Автор «Кипящих островов». Один из авторов, сжатых Пиньетом в кубик.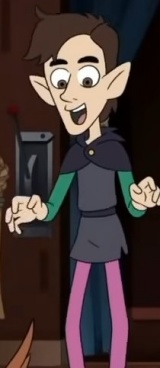 Ученик, наказанный за смешивание магии. Позже ему было позволено одновременно изучать и растительную, и мерзкую магию.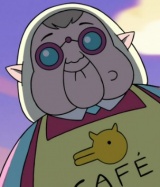 Коллега Розель. Кажется милой, но на самом деле очень агрессивна.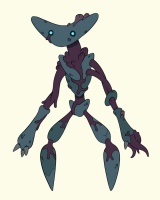 Жуткое существо, предназначенное для защиты Короля.
Edalyn Clawthorne (The Owl Lady)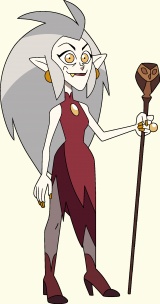 Друг и наставник Луз. Ее часто зовут сокращенным именем — Ида. Одна из сильнейшая ведьм на Кипящих островах. Не состоит ни в одном клане, из-за чего неугодна властям. Промышляет продажей человеческих вещей на демоническом рынке.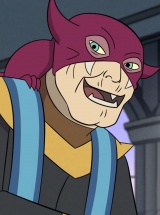 Директор школы Хекссайд.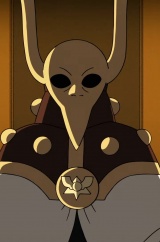 Правитель Кипящих островов. Создал систему кланов, что бы контролировать всю магию. Утверждает, что может разговаривать с Титаном, на чьих останках находятся острова.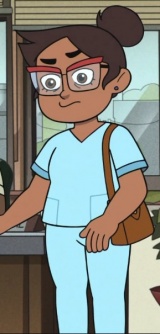 Мать Луз. Не подозревает, что ее дочь проводит каникулы отнюдь не в летнем лагере.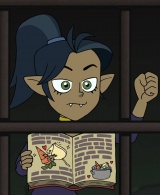 Ведьма, попавшая в тюрьму за написание странных фанфиков. Впоследствии она убегает оттуда в суматохе битвы Иды с Надзирателем Гневом.
Состоит в отряде «Барды против трона»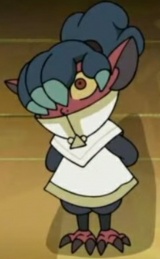 Ассистентка императора Бэлоса, которая передает его приказы другим подчиненным, а именно Лилит. Она также выступает гидом для посетителей Императорского замка.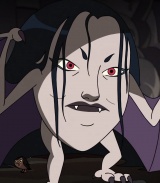 Сильный демон. Имеет много денег и троих детей.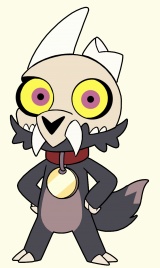 Близкий друг Луз и сосед Иды. Называет себя королем демонов, но не имеет никаких этому подтверждений. По сути, он просто милый пёсик с манией величия.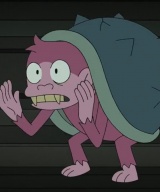 Монстр, описанный в некоторых книгах, как самый сильный демон на Кипящих островах. Но на самом деле он весьма безобиден.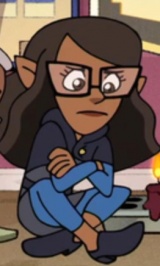 Девушка из окружения Боши. Ученица Хекссайда. Член школьной спортивной команды.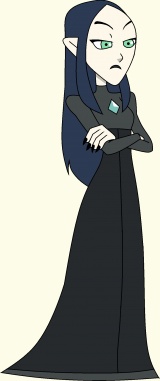 Сестра Иды. На протяжении первого сезона пытается завербовать свою сестру в Императорский клан, где сама уже состоит.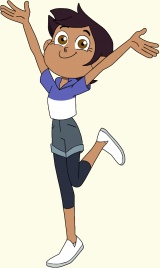 Главный протагонист. Оптимист и фантазер по жизни. Из-за своих проблем с социумом была отправлена матерью в летний лагерь, но случайно нашла дверь на Кипящие острова, пока ждала автобус. Несмотря на отсутствие врождённых способностей, смогла освоить магию.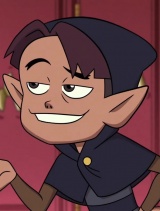 Не самый прилежный ученик Хекссайда. Жаждет власти.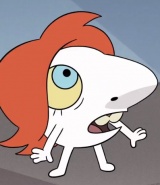 Странное существо, периодически появляющееся на фоне. Сидела в тюрьме за любовь к конспирологии. Является самокарикатурой автора идеи сериала Даны Террас.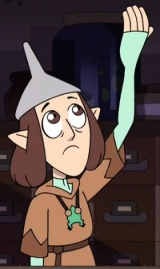 Продавец эликсиров. Совиная Леди является его постоянным клиентом.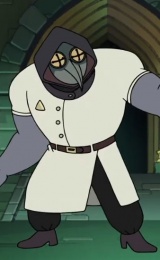 Начальник главной тюрьмы Кипящих островов. Отличается жестокостью. Пытался пригласить Иду на свидание, но безуспешно.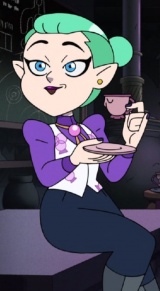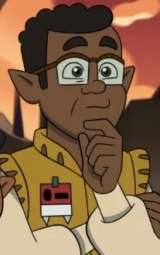 Отец Гаса. Работает телеведущим.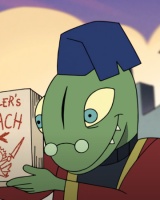 Издатель, превращающий авторов, пишущих сиквелы к своим книгам недостаточно быстро, в маленькие кубики.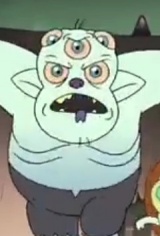 Монстр, попавший в тюрьму за поедание собственных глаз.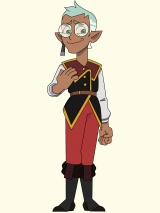 Глава бардовского клана и давний друг Иды. Несмотря на должность, боится сцены. Член отряда » Барды против трона». Не имеет определенного пола.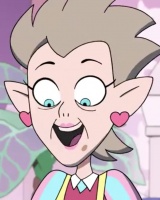 Ведьма, работающая в Кошачьем кафе. Ловит маленьких демонов и удерживает их в своем заведении, пока те не сходят с ума.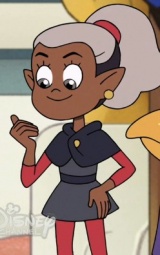 Ученица Хекссайда. Подруга Боши. Член школьной спортивной команды.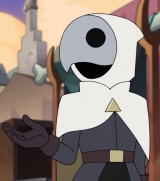 Солдат из императорского ковена.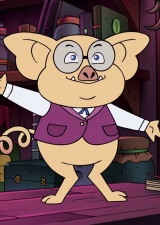 Успешный торговец-капиталист. Несколько раз ему удавалось поймать Иду.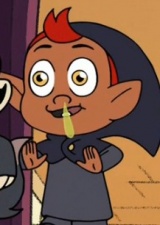 Ребенок, играющий в царя горы лучше, чем Король.
Заглавная
Добро пожаловать на Дом совы вики!
Если вы фанат сериала и готовы помочь развитию этого фэндома, то просим посетить страницу сообщества, либо сразу перейти к созданию страниц
Самоуверенная девочка-подросток Луз попадает в Магический мир, где находит новых друзей — ведьму-бунтарку Иду и маленького демона по имени Король. В этом мире Луз погрузится в освоение колдовского ремесла и разнообразные приключения.
Для семейного просмотра
Для поколения постарше
Посетите Discord-сервер по «Дому совы»:
Войти
С чего начать:
• Дополните короткие страницы.
• Напишите недостающие статьи.
• Сделайте ссылки на страницы-сироты.
• Загрузите и вставьте в статьи новые изображения! Это можно сделать на странице загрузки файлов.
Хотите что-то обсудить?
• Для общения на разные темы на вики существуют обсуждения.
• Если у вас есть вопросы по работе на вики, обратитесь к администраторам.
Не нашли, чем заняться?
Создайте свою статью!
Hunter
Hunter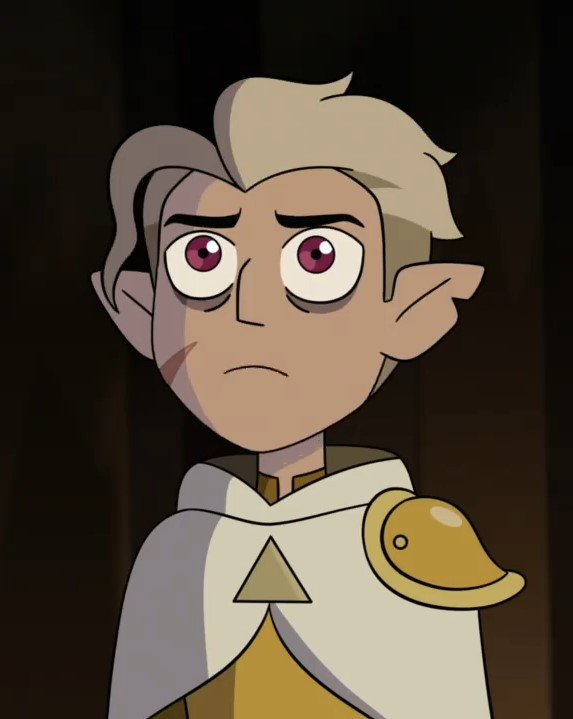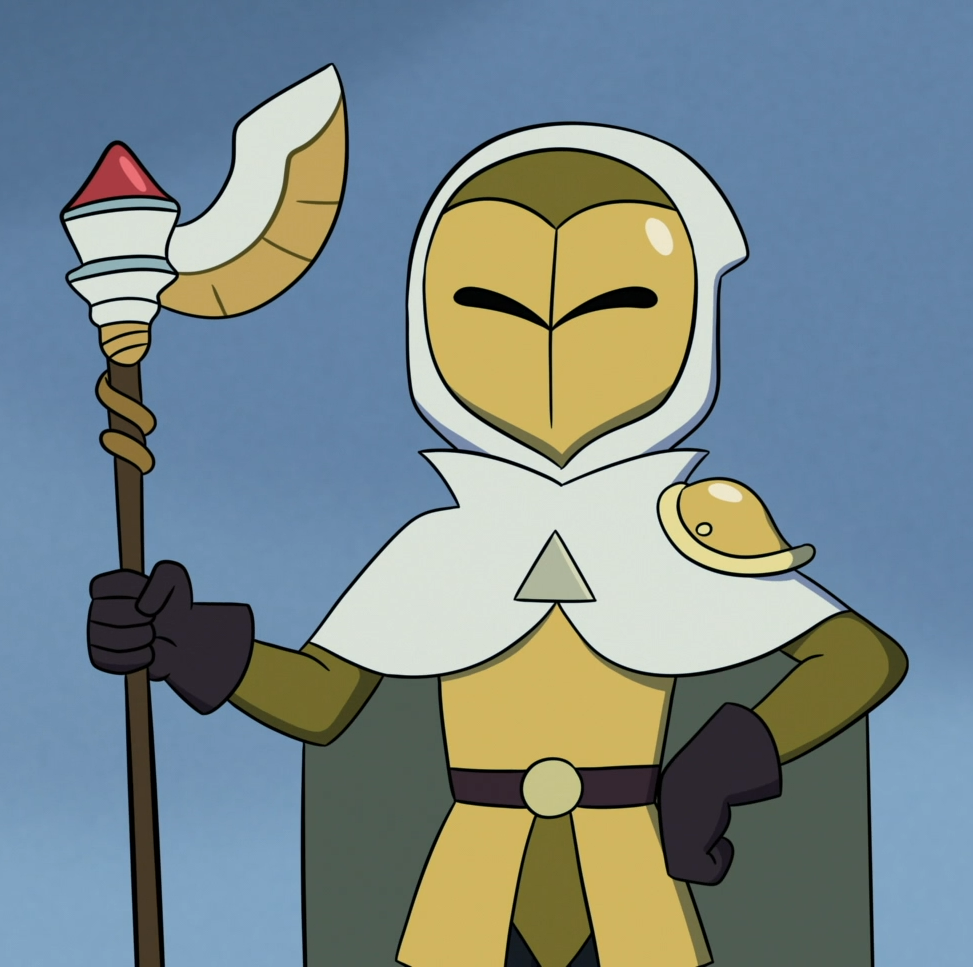 Background information
First episode
Latest episode
Voice
Character information
Full name
Other names
Gender
Species
Occupation
Affiliations
Coven
Relatives
Allies
Enemies
Likes
Dislikes
Weapons
Quote
Hunter, also known as the Golden Guard, is an antagonistic character of The Owl House. He is the nephew and right-hand man of Emperor Belos.
Contents
Appearance
Hunter is a humanoid witch with a fair complexion, pointed ears, a slightly hooked nose, dark magenta eyes, thick black eyebrows, a gap between his front teeth, bags under his eyes, and ash-blond hair that is shaved below the top, with a long, jagged forelock. He has a notch on his left ear and scars on his right cheek, upper left arm, and legs. He is described as scrawny by Amity in «Eclipse Lake».
Clothing
As a formal member of the emperor's court, Hunter wears an ivory hooded cloak, with a golden triangle clasp like other members of the Emperor's Coven. Under the cloak is a golden-yellow tunic with darker sleeves and a dark brown belt, black leggings, dark brown gloves, and boots. He wears a golden pauldron on his left shoulder and a pointed two-faceted mask with a thin slot across it.
In «Eclipse Lake», he disguises himself in a standard coven scout uniform during his excursion to the Knee.
Personality
Lilith described Hunter as a brat who was well renowned within the Emperor's Coven and would always receive special treatment for being a «genius teen prodigy», although whether or not this is his actual personality or was simply said out of pure jealousy by Lilith is unknown. He does, however, seem more laid-back and easygoing than Emperor Belos, sometimes comedic and snarky in his dialogue. Despite his high-ranking position and upper class status, he never takes advantage of his power for personal gain, only using his authority when ordered by Emperor Belos himself. He shows respect towards his boss, yet quite a bit of hubris and egotism towards anyone else.
He is, however, an opportunist who is willing to use blackmail or extortion to manipulate others, offering to let Eda and Luz go in exchange for slaying the Selkidomus, and then threatening to kill King when they refuse to do so. Whether this is due to pragmatism or simply laziness is hard to say, but having said that, he does give Luz a sword and does indeed let them go after he believes the job is done. Seeing as it was not done (and Eda is well-known as a con artist) might suggest some naivety on his part.
Hunter appears to be very loyal to Emperor Belos at first, even worrying about his uncle's condition. He occasionally offers alternatives to help Emperor Belos with wild magic, but also fearing his reaction to the mere mention of it. However, his loyalty is not absolute; he continually wonders why Emperor Belos has such a strong hatred for wild magic. He also did not seem to hand over his cardinal palisman to Emperor Belos, after it chose him as a partner. His relationship with his uncle appears to be complex, with a seemingly manipulative undertone.
Despite his laid-back persona, Hunter appears to be easily annoyed when things don't go his way, as seen with his interactions with Luz. He also seems to have a fascination with wild magic, despite his uncle telling him not to, and is seen nerding out over it with Luz. He also seems to have a soft side, being visibly affected by Luz's words when he tried to double-cross her, and seems to genuinely care for his new palisman.
Background
History
Hunter standing next to his uncle.
Hunter hails from a family where a majority of his ancestors lacked magic. Despite being a witch, Hunter himself lacked any natural magic, making his future on the Boiling Isles a dim one. However, his uncle, Emperor Belos, took Hunter under his wing and gave him a staff imbued with artificial magic, claiming that the Titan had big plans for him. Hunter appears to be orphaned, since he and Emperor Belos describe their family as gone now due to the effects of wild magic.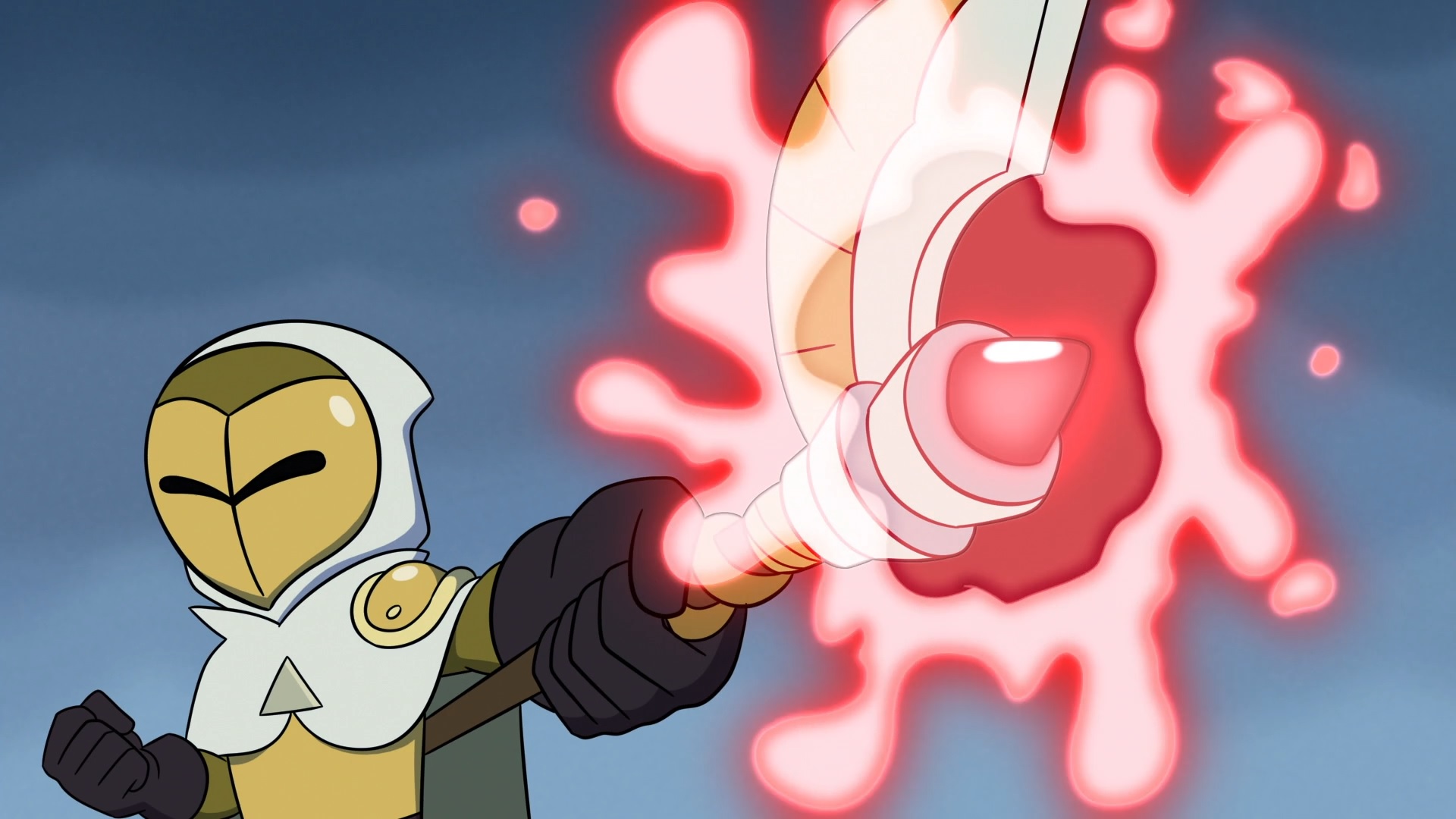 The Golden Guard wielding his staff.
While working under the Emperor, Hunter goes by «The Golden Guard» and serves as the Emperor's right-hand man. Hunter can be seen standing next to Emperor Belos' throne when his uncle lectured Lilith. After Lilith defects from the Emperor's Coven, Hunter is tasked with keeping an eye on the Owl House and its inhabitants, and currently serves as the leader of the Emperor's Coven.
Orders to kill the Selkidomus
The Golden Guard messing around with King.
In «Separate Tides», the Golden Guard is tasked by the Emperor himself to slay the Selkidomus, and a bounty is placed on Greg's List. At the time it was posted, the bounty for the Selkidomus had the highest pay and drew various bounty-hunters to the Emperor-affiliated Captain Salty. The Golden Guard witnesses Luz accept the bounty and board the ship, and he stayed within the captain's quarters until he found King wandering in. After Eda robs the ship of its snails and Luz pursues the burglar, the Golden Guard finds the two on the island where the Selkidomus resides. Both Luz and Eda attempt to fight him, but he easily overpowers them both with his staff. The Golden Guard then offers a compromise to the two criminals; they either kill the beast or he drowns King in the Boiling Sea. The two successfully kill a decoy Selkidomus, and the Golden Guard returns King to them as promised. However, he warns both Eda and Luz that the Emperor is not a merciful man before leaving. It is currently unknown if he is aware that the Selkidomus Luz and Eda killed was merely a decoy.
Seizing the Abomaton production
The Golden Guard telling Alador and Odalia that Emperor Belos will be funding their research into making the Abomatons stronger.
After the unveiling of the Abomaton 2.0 during a Blight Industries presentation, the Golden Guard approaches Odalia and Alador Blight. He is impressed with the Abomaton's performance and announces that Emperor Belos will personally purchase all the Abomatons and fund for further research and development. Though Odalia is honored to have her products recognized, the Golden Guard warns the Blights that the Emperor does not like citizens building their own private armies.
Hunting palismen with Luz
The Golden Guard witnesses the Emperor transform.
While showing the nine Coven Heads a vision of the Day of Unity, a coughing fit overtakes Emperor Belos, and the Golden Guard escorts the Emperor back to his throne room. Kikimora attempts to follow, but the Golden Guard assures her that he can handle it alone. He prepares a palisman for his uncle, but the Emperor demands more. However, with palistrom wood becoming an increasingly rare resource, palismen are becoming much more difficult to come by, and while the Golden Guard suggests a method of using wild magic, Belos refuses to entertain that notion. Instead, he is ordered to find more.
Luckily for the Golden Guard, Hexside is holding a palisman adoption day, and in the middle of the night, he uses his ship to steal the palismen, not knowing that Luz is among them. While the Golden Guard is distracted with flying his ship, Luz manages to slap a fire glyph on his back and send him flying off uncontrollably. Though he manages to get back on the ship with his staff and even restrain Luz, the human uses the grime on the ship's floor to draw an ice glyph, and the resulting icicles knock the staff away. To make matters worse, a hand dragon attacks, causing the ship to crash-land near Latissa.
An unmasked Golden Guard in Latissa with Luz.
The resulting crash leaves the Golden Guard unmasked, unconscious, and vulnerable, but Luz is unable to leave to guard to die at Kikimora's hands and subsequently slaps the guard awake. Even though he does not fully trust the human, the Golden Guard leaves his cloak as bait for the dragon while he and Luz escape to Latissa. He immediately storms over to one of Latissa's police precincts to contact the castle and shows his coven brand as proof. However, the guards running the precinct do not recognize their superior due to his young age, and when the Golden Guard asks for his staff in order to prove his identity, Luz hides it behind her back. Annoyed, the Golden Guard chases Luz through Latissa, and while she manages to elude him by using an ice pillar, the Golden Guard easily manages to climb up and corners her. Luz may have had the advantage now that she was armed with a staff, but the Golden Guard points out that no matter what she does, it won't end well for her; she won't attack him because she's too nice, and she can't fly away either because then she'd be leaving the rest of the palismen behind. However, neither Luz nor the Golden Guard want Kikimora to return to the palace with the palismen, and the two form a truce.
Hunter is scared of Li'l Rascal approaching him.
Luz comes up with a plan to get the palismen away from Kikimora while en-route to the Emperor's castle. Using a fire and ice glyph combination, she can conjure up a thick mist, combined with pollen from sleeping nettle flowers that will create a sleeping-induced smoke, forcing Kikimora and her dragon to land. The Golden Guard is impressed by Luz's knowledge and compares Luz's glyph magic to the elemental magic once used during the Savage Ages. Just as he is about to talk about his knowledge of wild magic, the Golden Guard stops himself, knowing that such magic is restricted by the Emperor. Luz then asks why the Golden Guard wanted to join the Emperor's Coven, and he reveals to her that he's a powerless witch who was taken in by the Emperor and had his entire future planned out. Luz muses that the Golden Guard had his future planned for him, but he is envious of her freedom and ability to decide her own future. During this time, the cardinal palisman takes interest in the Golden Guard, but the guard is apprehensive and sees the creature as dangerous due to the fact that it is made of wild magic.
Hunter turns on Luz the moment he gets his staff back.
Soon, Kikimora is on the move and Luz returns the Golden Guard's staff before activating the glyph combo. The plan is successfully executed, but Luz forgets one crucial detail. She forgets that the Golden Guard has to take the palismen to the Emperor, and he prepares to double-cross her now that the staff is back in his possession. Luz criticizes him for what he is willing to do to the palismen for the sake of the Emperor, and acknowledges that the Golden Guard is not a friend, but an enemy. Visibly hurt, the Golden Guard lowers his staff and reveals his name, «Hunter.» Immediately after this, Kikimora attacks him. Due to the sleeping smoke, she cannot see Hunter very clearly. The two fight, with Kikimora managing to set fire to a strand of Hunter's hair. He easily defeats her and sees Luz leave with the palismen.
Emperor Belos is disappointed that Hunter failed his mission.
Later, at the Emperor's Castle, Belos scolds Hunter for failing to retrieve the palismen. Hunter responds that if he knew more about wild magic and how it cursed his uncle, he could potentially find a cure. This causes Belos to lash out and just barely miss hitting him with a sharp tendril. The Emperor, however, forgives Hunter, as he knows that he can do better. Hunter returns to his room to find that the cardinal palisman has chosen him to be its wielder. Hunter is hesitant, knowing that it is dangerous for the palisman, but he accepts his new staff.
Hunting for Titan's Blood
Hunter falls and gets caught by King, Eda and Amity.
Originally, Hunter is tasked by the Emperor to find Titan's Blood for his next mission, but Belos opts to replace his nephew with Kikimora. Wanting to prove himself to his uncle, Hunter decides to go find Titan's Blood despite Belos' orders. Disguising himself as a regular member of the Emperor's Coven, Hunter attempts to sneak past Kikimora's expedition group to get to Eclipse Lake, but is caught by Eda, Amity, and King, who are also searching for Titan's Blood. After realizing Hunter's identity on account of his «annoying voice», Eda and Amity capture him and tie him up.
Amity tries to console Hunter and offers him her hand.
Hunter cooperates with them, and even helps guide them to Eclipse Lake. However, when Hunter convinces Amity to untie him due to Kikimora having found them, he turns on Amity, kicking her legs out from under her and leaving her to be captured by the Emperor's Coven while he runs off to get the Titan's Blood before anyone else can. Amity later finds Hunter in the middle of the dried up Eclipse Lake, visibly exhausted from having fought his way through Kikimora and her guards and having a mental breakdown due to having found no Titan's Blood for Belos. Hunter begins digging a hole which he refers to as his «grave» before lying down in it. Amity attempts to console the distraught Golden Guard, telling him that he too can find people that care about him for who he is, rather than what they want from him, like she did.
Hunter attempts to grab the key dangling from Amity's neck.
Hunter seems to be willing to take Amity up on her offer to go with her, but upon seeing the portal key on Amity's neck, he quickly turns on her and tries to grab the key off her. A fight ensues, with Hunter (with the help of his new palisman) fighting both Amity and King in an effort to get the key. Hunter and Amity eventually stalemate each other, and he manipulates her into giving him the key by saying that he knew where to find both her and Luz. However, Hunter seems to show some degree of remorse about this before leaving. On his way back to the Emperor's Castle, Hunter bonds with his palisman, thanking it for never leaving his side and even now being able to understand what his palisman is saying.
Relationships
Emperor Belos
Emperor Belos telling Hunter that the Titan has big plans for him in «Eclipse Lake».
Hunter is Emperor Belos' nephew, and he is his only surviving family after an undisclosed incident that involved wild magic at most 16 years before the series starts. This event led to Emperor Belos taking Hunter in and mentoring him, giving him a staff with artificial magic at some point in time. This eventually leads to Hunter becoming Emperor Belos' right-hand man, and the boy being chosen as Lilith's replacement as Head of the Emperor's Coven.
They are shown to have a complicated relationship with a potential abusive/manipulative undertone, as Emperor Belos aggressively clutches the boy's shoulder in «Hunting Palismen», and later misses hitting Hunter's cheek by a tendril, after Hunter fails his mission to capture palismen and speaks of healing Emperor Belos' curse with wild magic. It appears as though the Emperor set a fear of wild magic into Hunter, as he is weary of Li'l Rascal when the cardinal palisman touches him. In «Eclipse Lake», Emperor Belos implies that Hunter's failure from the events of «Hunting Palismen» is the reason he switched Hunter with Kikimora to gather Titan's Blood. This makes Hunter believe he is going to be replaced, and he tries to get to Eclipse Lake before Kikimora. He eventually did, only to found out that the lake is now dry. This causes him to have a mental breakdown, as he thinks he has failed again, and starts digging his own grave. Though Emperor Belos appears to be somewhat familially attached to Hunter, the genuineness of their relationship is currently unknown.
Kikimora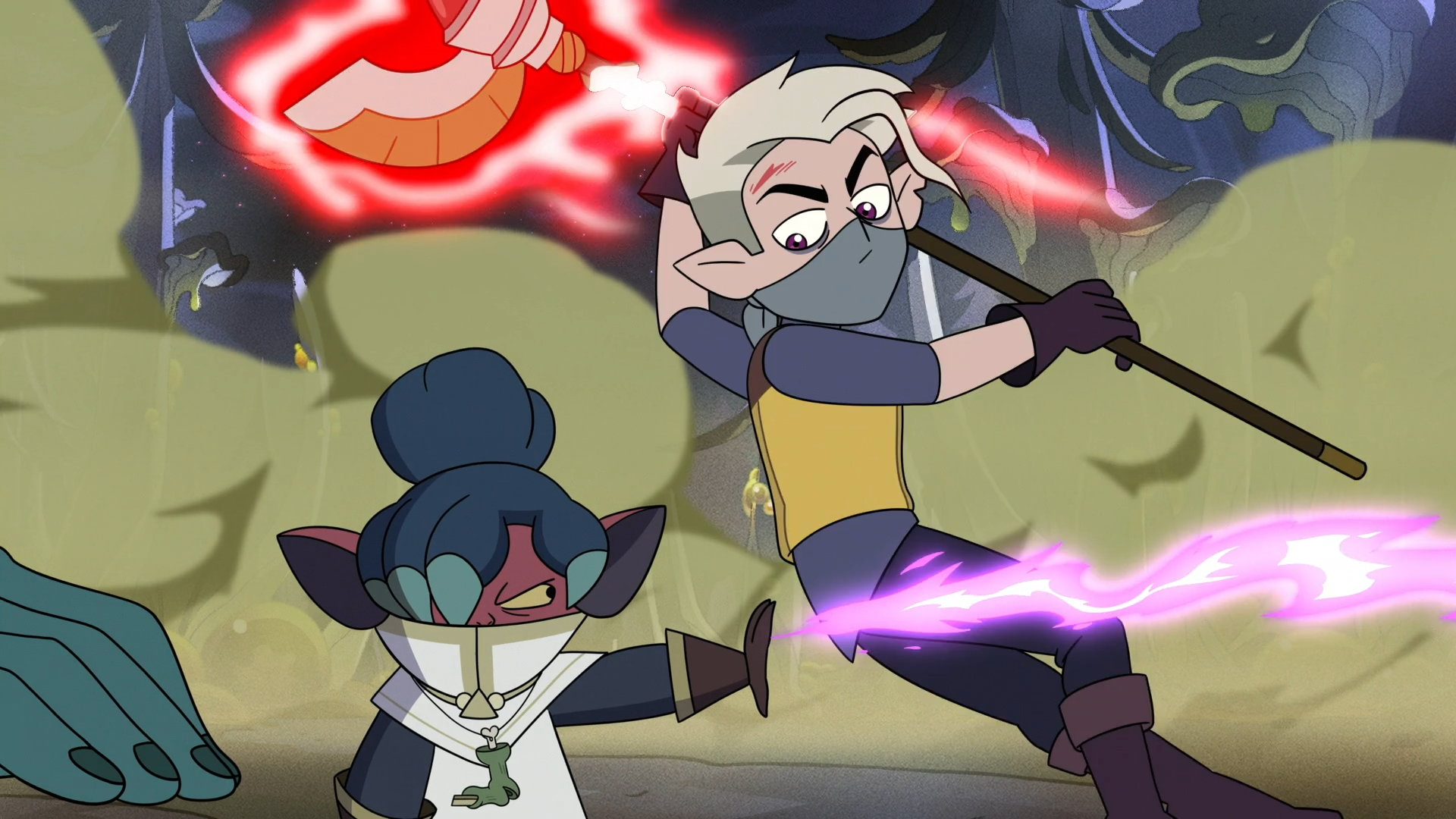 Hunter and Kikimora fighting each other in «Hunting Palismen».
Kikimora and Hunter are rivals. She appears to be jealous of the Golden Guard, thinking Emperor Belos favors him over her. In «Hunting Palismen», she sabotages Hunter's mission and attempts to kill him. She thinks she succeeded, and is surprised to bump into him still alive later. The two appear to be at odds with each other, both trying to prove that they're useful for Emperor Belos. Later, in «Eclipse Lake», Kikimora tries to find Titan's blood as fast as possible, constantly paranoid about Hunter ruining her plans and stealing her work in the mine tunnels.
Luz Noceda
Hunter refuses to believe that Luz is helping him in «Hunting Palismen».
Luz and Hunter are enemies, but on a slightly friendlier term. When they first met each other in «Separate Tides», Luz is shown to heavily dislike the Golden Guard after he gives them the ultimatum to kill a Selkidomus or he would drown King in the Boiling Sea.
In «Hunting Palismen», the duo are forced to work together to regain the stolen palismen. After realizing that Kikimora wants to kill Hunter, she saves his life, even though she makes it clear that she doesn't like him. They are shown to tease one another, with Luz purposefully annoying and egging on Hunter throughout the episode. The two eventually have a heart-to-heart chat about each other's magical capabilities, and Hunter reveals his backstory to the girl. Luz eventually trusts Hunter enough to hand back his staff, but is later betrayed when Hunter turns it against her. Luz is emotionally hurt, telling Hunter that he is not her friend as he is just «The Golden Guard». Hunter then reveals his name to her, and defends her from Kikimora when she starts attacking them, allowing Luz to get away safely with the palismen.
In «Eclipse Lake», Eda says that Luz refers to Hunter as a «beat up blond with no magical powers» and calls him a «bad, but sad boy,» what makes Hunter embarrassed.
Eda Clawthorne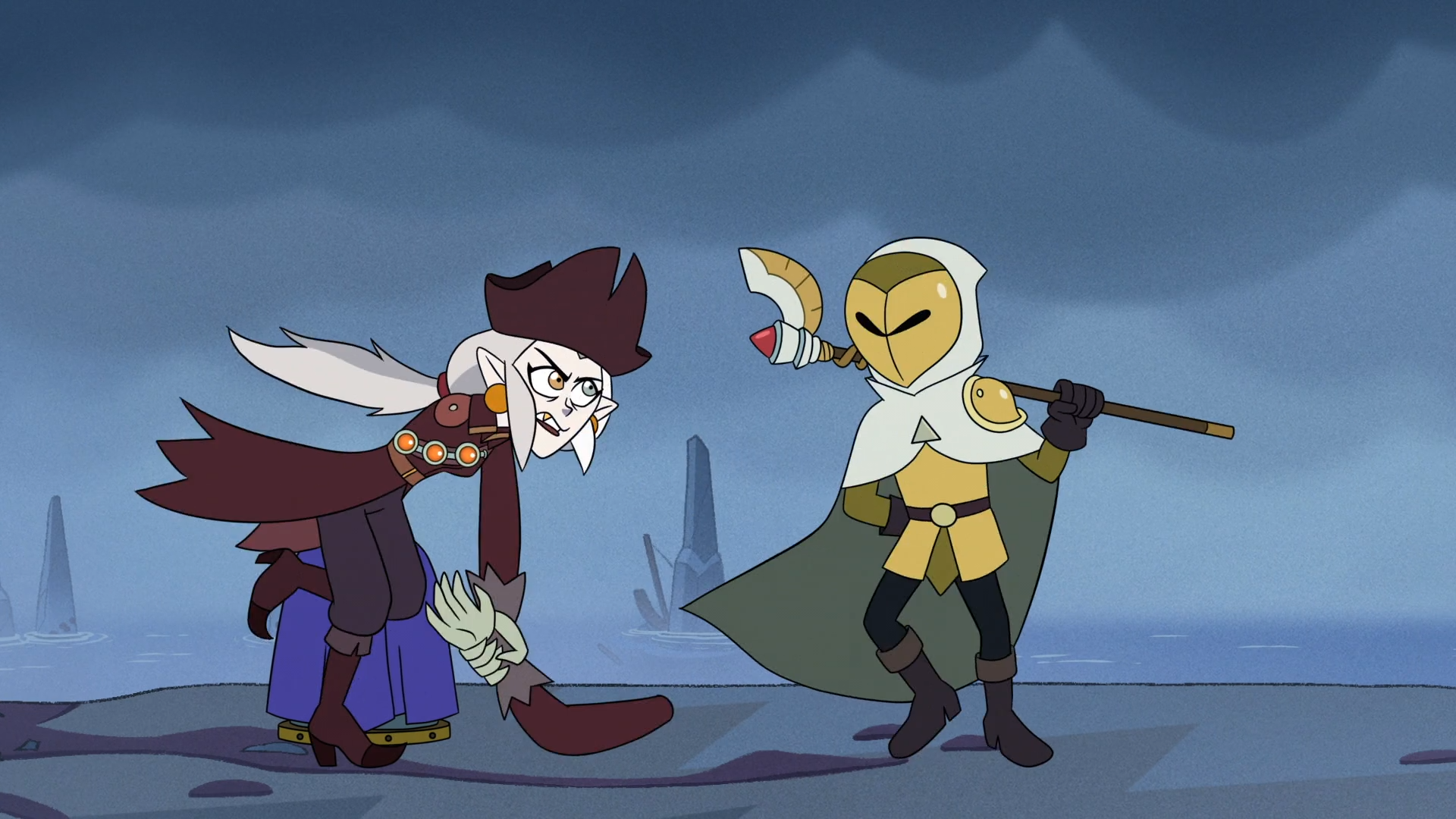 Eda trying to fight Hunter in «Separate Tides».
Eda is shown to be annoyed at Hunter and shows a clear dislike for him after he defeats her and Luz in «Separate Tides», and he threatens to drown King in the Boiling Sea, if she or Luz doesn't kill the Selkidomus on his behalf.
In «Eclipse Lake», Eda recognizes his voice even though he wears a Coven Scout disguise. Later, she gets angry at Hunter for doubting her ability to turn into a Harpy.
Lilith Clawthorne
Lilith and Hunter both once belonged to the Emperor's Coven, with Hunter taking her role as Coven Head once she defected. They have an unknown past history, which is implied to be negative as Lilith is shown to be jealous of, and to hold a form of contempt against Hunter, calling him a «brat» in «Separate Tides» and screwing up his poster when Luz asks her about him. She describes knowing him as «unfortunate» and saying that he always got special treatment for being the «genius teen prodigy».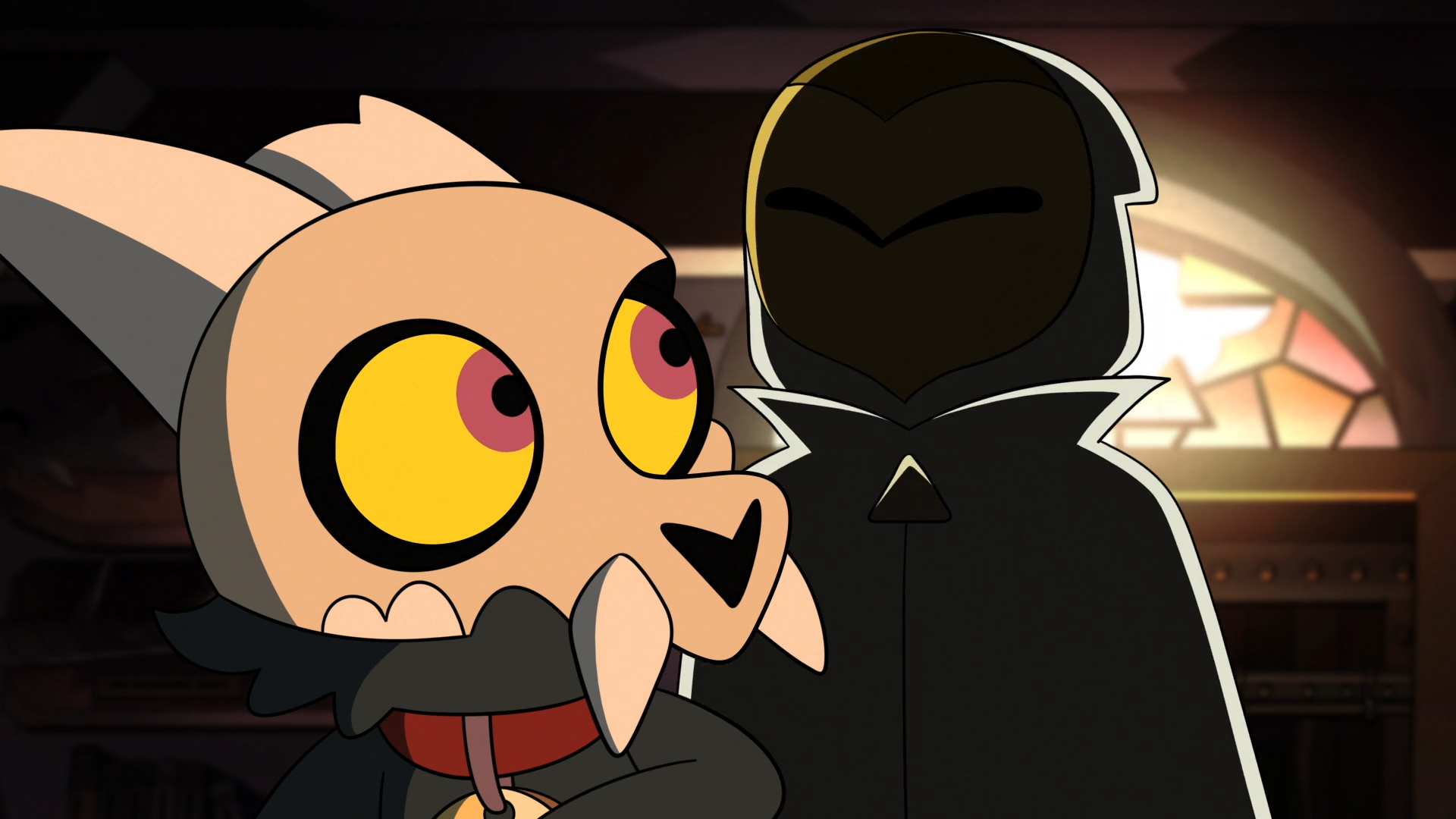 Hunter about to capture King in «Separate Tides».
King was kidnapped and held hostage by Hunter in «Separate Tides». Hunter appears to enjoy teasing him, and describes King as «strangely endearing», although King doesn't take notice of his remark. He also remarks that King smells bad, before tossing the cage holding King to Luz.
In «Eclipse Lake», King tries to calm things down between Eda and Hunter. Hunter then calls King a «rat», which angers him as he jumps onto Hunter's head and starts pulling on his hair.
Li'l Rascal
Hunter starting to understand what Li'l Rascal is saying in «Eclipse Lake».
In «Hunting Palismen», the unnamed palisman (named Li'l Rascal by Luz) took a liking to Hunter while he saw the red-colored bird as just another palisman for his uncle, but after spending time with both Li'l Rascal and Luz, Hunter begins to act nice towards him. When the bird comes to him later, he tells the palisman he previously called «bird» to leave before Belos could see it, knowing the fate that falls upon any palisman his uncle gets his hands on, but becomes surprised when Li'l Rascal picks him to be his bounded witch by turning into a staff in front of him.
In «Eclipse Lake», Li'l Rascal continues to follow Hunter around despite his objections, but he still hides the palisman from Belos for its own protection. After fighting side-by-side in the old mine, Hunter acknowledges that the little bird never left his side and begins to bond with him, while also starting to understand what his new little friend is saying.
Amity Blight
Hunter and Amity fight for the portal key in «Eclipse Lake».
Hunter and Amity share some similarities in terms of their life purpose and backstory. Despite that, they are enemies with each other.
The duo first met each other in «Eclipse Lake», where Hunter is captured by Amity and is forced to follow her, Eda and King into the mine tunnels. Noticing Luz's mesages to Amity on the game device, Hunter interprets it as Luz wanting Amity to come back with results or she will break up with her. When Kikimora starts getting closer to Hunter and Amity's hiding place, he begs Amity to untie him, saying he doesn't want to be replaced. Amity reluctantly obliges, but Hunter immediately betrays her by tripping her down and rushes towards Eclipse Lake. Later, after realizing what Luz's messages truly meant, Amity tries to console Hunter by telling him that there are people out there who won't make him feel worthless, and offers him her hand. However, Hunter sees the key dangling from her neck and attempts to grab it, resulting in a fight between the duo. Hunter and Amity eventually come to a stalemate, but Amity is forced to hand the key over when Hunter threatens Luz's safety. Hunter appreciates Amity for doing so, and flies away without realising Amity has actually broken the key, leaking half the Titan's Blood onto her glove.
Powers and abilities
Sightings
Behind the scenes
Voice
Hunter is voiced by Zeno Robinson. The announcement came from Zeno's Twitter on June 5, 2021. [2]
Debut
He made his proper debut in the second season episode «Separate Tides». But before his official debut, he made non-speaking cameos in the episodes «Agony of a Witch» and «Young Blood, Old Souls», and is also shown briefly in the Season 2 main theme.
Foreign voice actors
Language version
Actors
Notes
Spanish (Latin America)
Patricio Lago
Portuguese (Brazil)
Vágner Fagundes
Indonesian
Salman Pranata (1st Voice)
Salman Pranata voices Golden Guard for the first two episodes of Season 2.
Polish
Mateusz Narloch
Thai
Akapon Subpaya-archin (อรรคพล ทรัพยอาจิณ)
Quotes
Gallery
Click here to view the gallery.