Седьмой киллер аниме персонажи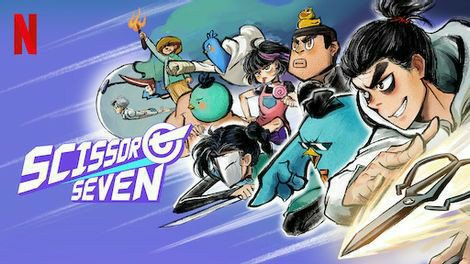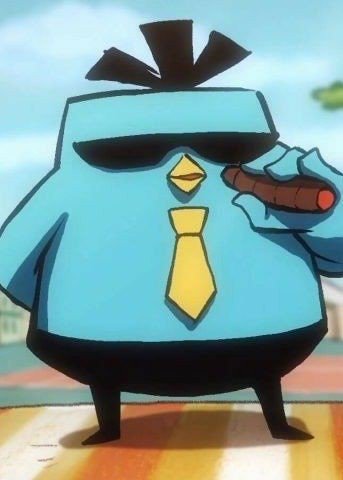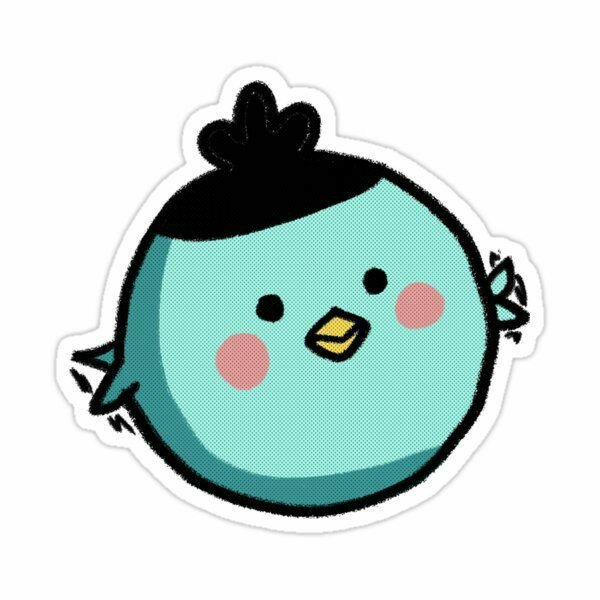 В начале первого сезона он был на улице Куриного острова, управляя киоском с мясными субпродуктами. Он и Дай Бо мечтали о том, чтобы Севен стал лучшим убийцей в мире и заработал кучу денег. Не имея прошлого, родственников или ценностей, Севен казался идеальным кандидатом на эту работу. В качестве дополнительного стимула Дай Бо пообещал Севену, что, если они заработают миллион юаней, поедут в Стан, самую технологически развитую страну в мире, и вернут утерянные воспоминания Севена.
Дай Бо обучил Севена способам убийств, а также открыл парикмахерскую в качестве прикрытия. Во время обучения Севен оказывается ужасным во всем, что связано с убийствами, но Дай Бо из жалости дает ему «свидетельство об убийстве».

Его первая миссия в качестве убийцы заключалась в том, чтобы отрезать Ли Санджин волосы во время ее свадебной церемонии и испортить их. Он случайно порезал мужу волосы и вызвал шум, в результате которого за ним гналась разъяренная толпа. После этой первой работы он встретил робота Стана, который напал на него, как только узнал жетон, который он держал на себе (аксессуар с вышитой буквой «семерка»).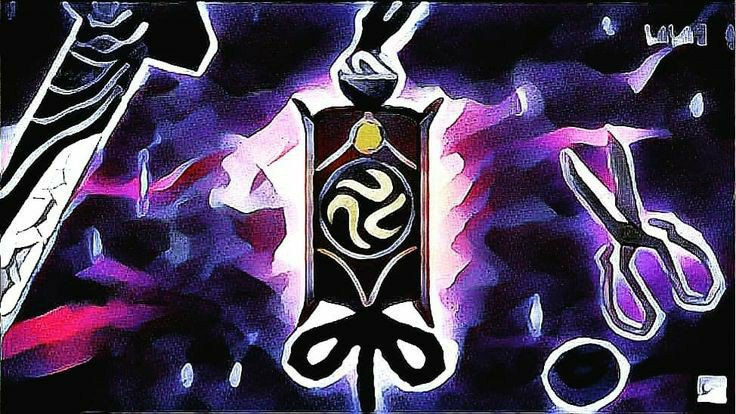 По словам робота, любой, кто носит этот жетон, является врагом Стана. Робот собирается раскрыть таинственное прошлое Седьмой, когда женщина-убийца обезглавливает его. Она оказывается Тринадцатая и занимает 38-е место в списке убийц.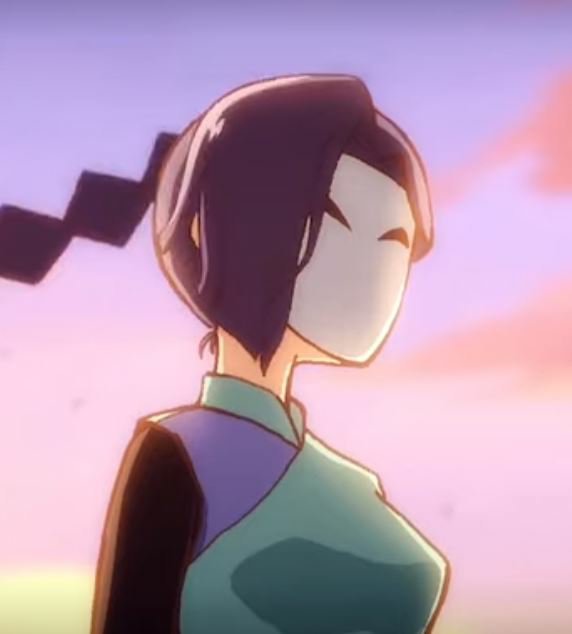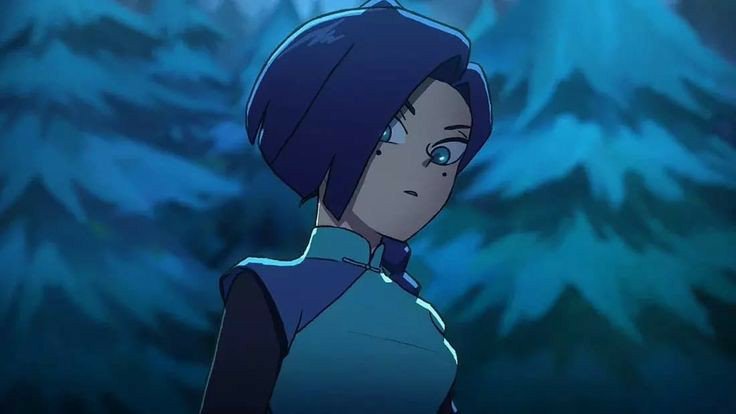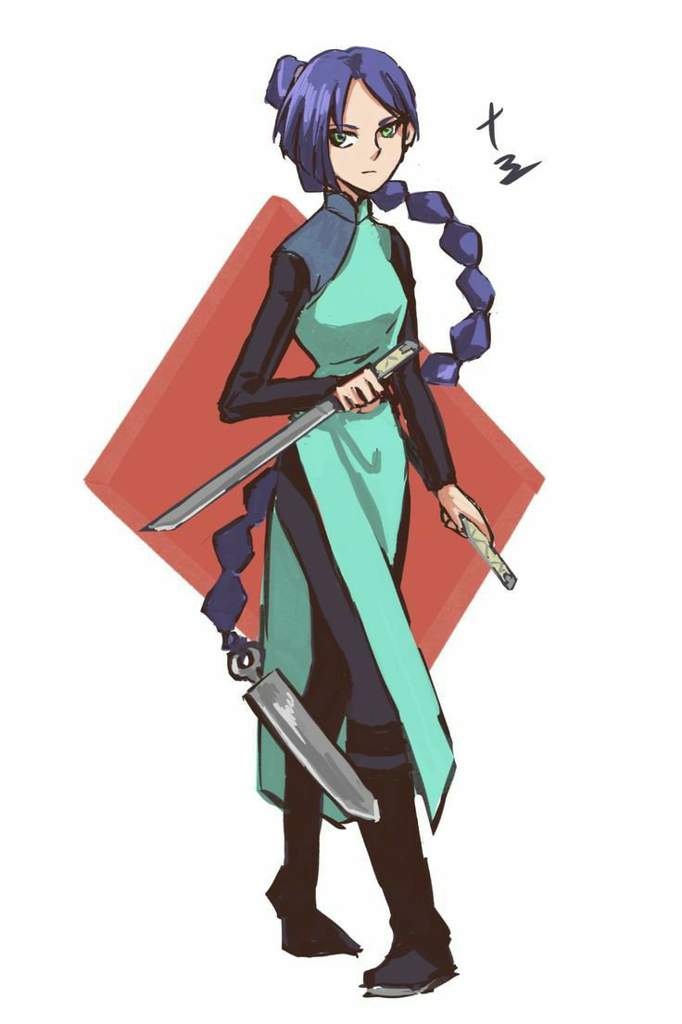 Затем Тринадцатая угрожает Севену и спрашивает его, почему у него есть жетон Лиги Убийц. К счастью для Седьмой, они были прерваны функцией самоуничтожения робота.
После этого Севен решает стать одним из лучших наемных убийц, чтобы быть завербованным Лигой Убийц, которая, как он надеется, приведет к разгадке его прошлого.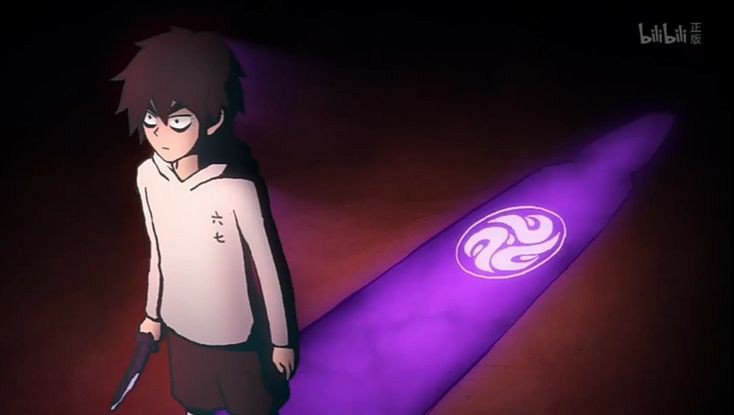 [Работа наемным убийцей]
Как убийца, он встречается со многими клиентами. Обычно он пытается выполнить свои приказы, будь то убийство или калечение своих целей. Однако он не очень компетентен в убийстве и часто заканчивает тем, что спасает свои цели или решает проблему, не убивая их. У него появилось несколько друзей из своих миссий, одним из примечательных примеров является Кола,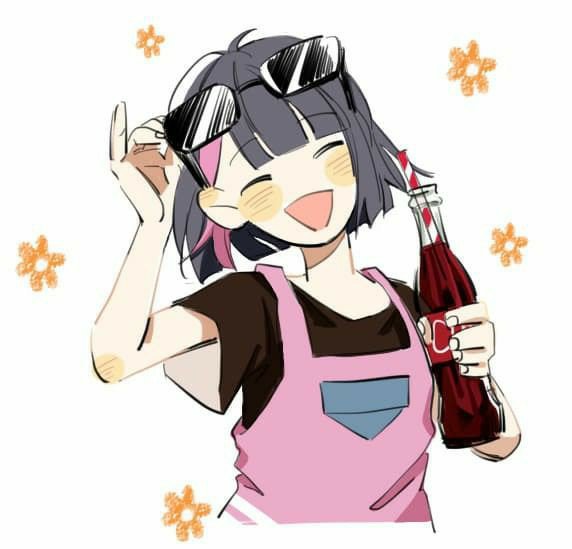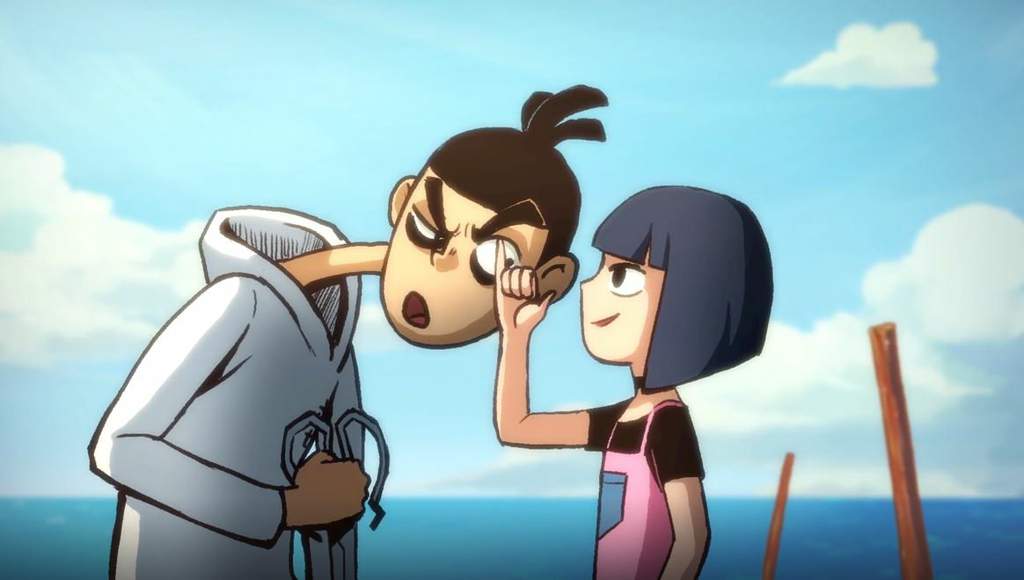 Ножницы с контролем ци
Севен может использовать Ци и управлять ножницами с помощью своего разума, но ему необходимы определенные движения рук, чтобы управлять ими. Он также может разделить ножницы на две части и с легкостью собрать их обратно.

Яйцо Гайба было дано Севену Дай Бо, позволяя Севену трансформироваться во все, о чем он думает в данный момент, но, к сожалению, он может только скопировать его внешний вид и не получает никаких его способностей.
Тысяча демонических кинжалов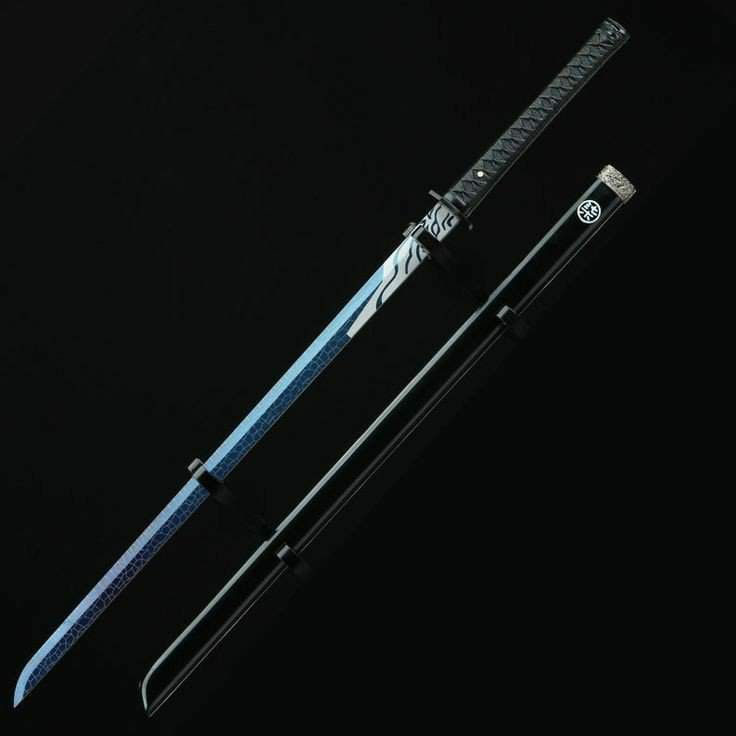 В своем нынешнем состоянии Севен не может использовать весь потенциал меча. Однако во время его битвы с принцем Стана можно увидеть, что Севен смог выполнить множество творческих ходов, таких как уничтожение щита принца, повторно материализовав клинок и протянув его, чтобы разрезать огромного робота.

Севен также использует клинок против Капитана Джека,

разбирая его и используя тысячу осколков в качестве пуль.
У Севена черные волосы до плеч, которые в основном собраны в пучок, похожий на куриный гребень. Обычно он носит белую толстовку с черными шортами и черные парусиновые туфли с низким вырезом. Его всегда видят с мешками под глазами. Севен обычно имеет непринужденное и невинное выражение лица, становясь серьезным только в редких случаях.



Когда Севен был безжалостным убийцей еще в Лиге Убийц, он носил традиционное платье ханьфу с капюшоном. Его волосы были распущены и всегда очень растрепаны, и он сохранил темные мешки под глазами. Выражение его лица было холодным и безжалостным, в нем не было ни малейших эмоций.



Он безнадежный романтик и постоянно нападает на Тринадцать,

У Севена есть серьезная сторона, которая была гораздо более заметной до потери памяти. В прошлом он был безжалостен в своей работе и твердо верил в пословицу о том, что убийца не должен вмешиваться в чужие дела и не должен проявлять никаких эмоций.

В конце концов, он отвернулся от этой философии,

и его желание защитить неизвестную женщину чуть не закончило его жизнь и привело к потере памяти.
Дата выхода 4 сезона аниме Киллер Севен и трейлер, сюжет и персонажи
Точная дата выхода серий 4 сезона аниме «Киллер Севен» и трейлер представлены внизу страницы, там вы найдете полное расписание.
Сюжет 4 сезона аниме «Киллер Севен»
Каждая серия аниме длится 13 минут, за это время разработчики успевают создать целую историю и увлечь зрителя подробностями и деталями. Особенностью картины поклонники называют отличный экшен, который держит в напряжении все время.
В центре картины находится парикмахер, который вооружен ножницами. Он помнит о себе очень мало, но пытается восстановить утраченные воспоминания. На фоне его попыток враждующие кланы ведут борьбу за власть и пытаются поймать незадачливого парикмахера.
Название картины переводится как «Седьмой киллер», это не сразу становится понятно зрителю. Только со временем выясняется, что парикмахер и есть киллер. Он вынужден скрываться от врагов, балансировать между двумя кланами, чтобы спасти собственную жизнь.
«Киллер Севен» насчитывает 3 сезона, в каждом из них по 10 или 14 эпизодов. Общее количество серий к 2021 году – 34. Длительность всего сериала составляет 7 часов 22 минуты.
Зрители отмечают, что сюжет для аниме «Киллер Севен» довольно условен. На протяжении первого сезона сюжетного развития почти нет, картина наполнена интересным экшеном, необычными поворотами событий, но объяснений происходящему почти невозможно найти. Картинки сменяют друг друга, зритель уже начинает привыкать к тому, что следующие друг за другом события никак не связаны.
Постепенно события начинают развиваться и приводят к пониманию общей картины. К началу 4 сезона парикмахер Лоци так и не восстановил свою память. За время, прошедшее с начала шоу, он попадал во множество разных историй, встречал абсолютно разных людей. Особенность его жизни – полная потеря памяти после того, как он заснет.
Персонажи и озвучка
Основных персонажей в сериале немного. Это Люци – главный герой. Он парикмахер и седьмой киллер по совместительству. Основная проблема Люци – полная потеря памяти каждый раз после сна. Люци удается виртуозно владеть ножницами, он выстригает необыкновенные вещи, во время работы инструмент просто парит в воздухе.
Если парикмахер из Люци получается прекрасный, то киллер ужасный. На протяжении сезонов он проваливает миссии, убивает не тех людей, делает совершенно ненужную работу. Люци каждый раз мечтает только об одном – он хочет вспомнить всю свою жизнь и начать жить с чистого листа.
Дай Бо – это друг Люци. Он выглядит как фермерский цыпленок с синими перьями. Дай Бо постоянно находится рядом с Люци, именно он рассказывает ему, кто он такой. По сути, Дай Бо – единственный, кто утверждает, что парикмахер и есть киллер. Дай Бо мечтает заработать миллион юаней, чтобы поехать к врачу, который сможет вылечить друга.
Сяо Фэй – еще один интересный персонаж. Это приемный сын Дай Бо, который постоянно находится рядом с друзьями, часто мешает им, но иногда приходит на помощь.
Любопытные факты
«Киллер Севен» – необычная работа китайских шоураннеров, которая поражает своим юмором и уникальным набором приемов. Несмотря на довольно простую рисовку, персонажи выглядят оригинально и необычно.
Сначала «Киллер Севен» был показан на китайском канале «БиллиБилли», но затем картиной заинтересовался мощный портал «Нетфликс». Стриминговый сервис существенно увеличил рейтинг сериала, кроме того, возросло количество просмотров.
На протяжении эпизодов сценаристы оставляют пасхалки и отсылки к другим проектам, что всегда заинтересовывает зрителя. В разных эпизодах поклонники находят многочисленные интересные предметы и персонажей:
Кроме того, знаковой для любителей американских и азиатских проектов становится музыка, выбранная к финальной битве.
Примечательно, что над проектом плотно работают лишь 2 человека – это сценарист и режиссер. Остальная команда меняется, группируется, монтаж делает команда людей, которая приезжает для работы из Америки. Подобный подход – это совсем не обычная практика для создания аниме сериалов. Обычно в Китае над проектами трудится постоянный коллектив, который отвечает за шоу от начала до конца.
Дата выхода серий четвертого сезона
К 4 сезону показано 3 подхода по 10 или 14 серий в каждом. Шоу продлено на 4 сезон. Работа над проектом еще не началась, так как старт выхода назначен на январь 2022 года.
Эпизод
Дата выхода
#1
Конец января 2022 года
#2
#3
#4
#5
Трейлер
Поклонникам доступны трейлеры и кадры из предыдущих сезонов. Новый трейлер еще не вышел, но появится через 2 недели после официального пресс-релиза.
Последние новости проекта
«Киллер Севен» вновь стартует на «Нетфликсе». Контракт с сервисом заключен на 4 года с продлением по мере необходимости. Шоураннеры заявляют, что они полны идеями для шоу. Что ожидает зрителя в конце, пока не понятно. Отсылки к фильмам типа «Помни» или «Чужак» говорят о том, что ничем хорошим подобные истории не заканчиваются.
Сценаристы считают, что проект может продолжаться еще 2 года, сценарий для съемок уже готов, но не имеет вариантов альтернативного развития, как это бывает со стриминговыми сериалами, работа над которыми ведется в режиме реального времени.
Рейтинги
Сериалу аниме «Киллер Севен» присвоен рейтинг, равный 7,69 балла на портале «КиноПоиск». Это высокая оценка продукта, которая говорит о хорошем качестве съемки. По IMDb сериал оценивают в 8,2 балла. Критики дают картине 8,5 звезды.
Seven
Seven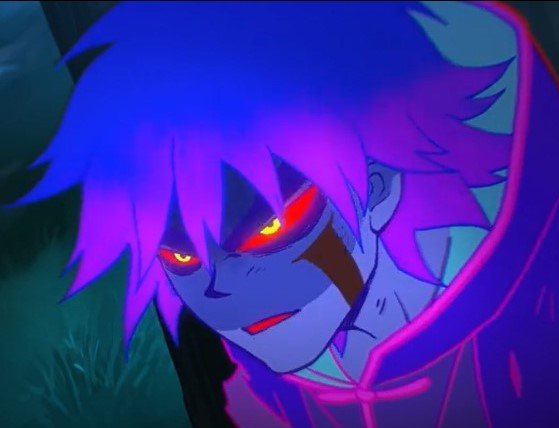 Aliases
Affiliation
Biographical information
Place of birth
Place of death
Occupation
Hobbies
Physical description
Species
Gender
Hair color
Eye color
He's a 21-year-old barber who suffers from amnesia. Alongside his boss (and best friend) Dai Bo and Xiao Fei, works as an assassin for hire to gain a lot of yuan to retrieve his lost memory. He was found by Dai Bo and Xiao Fei on a beach in Chicken Island when he was 19 and has been living with them for 2 years and runs a barbershop business.
Throughout the series, he tries to kill his targets, but the problem is that he solves their problems without the need of killing them. It's later revealed his real name isn't Seven, but rather his code name, and that he was the strongest assassin in all Xuanwu.
His assassin rank is 17, 369. Before his memory loss, his assassin rank was 1.
Contents
Personality [ ]
Seven is goofy, a little absent-minded at times, and is a bit of a pushover. He decided to become a killer supposedly because he lacks any morals and is only interested in becoming rich, but he never manages to kill his targets. This is partly because of his incompetence, but also because he actually doesn't want to actually kill others. As the series progresses, his sense of justice slowly comes more and more into the spotlight.
He's a hopeless romantic and constantly hits on Thirteen despite her clear disinterest in him. He has posters of romance movies in his room and thinks the only reasons Captain Jack would come to his saloon would be for a haircut or to ask him on a date.
Seven has a serious side that was much more prominent before his memory loss. In the past, he used to be merciless in his job and believed strongly in the adage that an assassin shouldn't get involved in others' affairs and shouldn't show any emotion. In the end, he turned his back on this philosophy, and his desire to protect an unknown woman is what almost ended his life and led to his memory loss.
History [ ]
Before the Show [ ]
Him getting his token
Seven was born in Xuanwu as a prodigy, from the little we know he seems to be born with a gift in Qi manipulation and at so point come in contact with the leader of the Killers League. Later at the age of 15, he joined the shadow killers with the recommendation of the leader himself. Their relationship isn't clear but Seven seems to be his favorite. This cause some suspicion in the league, especially RedTooth, as nobody has heard of him and had no killing history.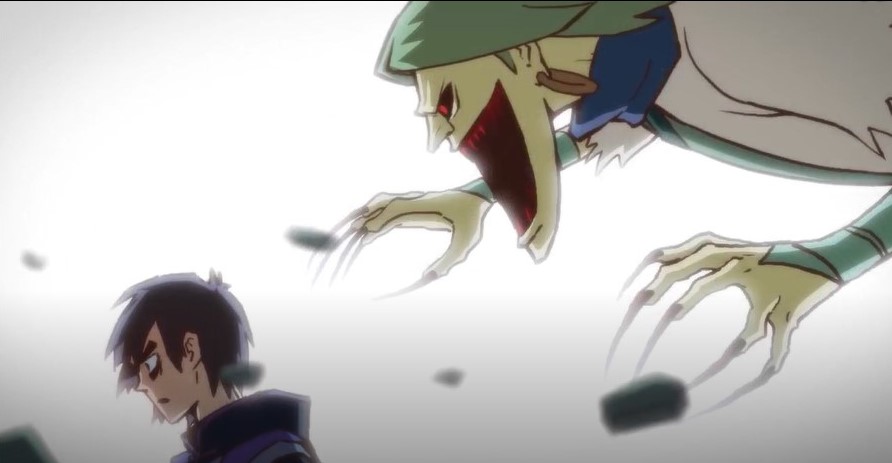 This led Redtooth to try and kill him but was saved by Blue Phoenix, after this, he tells him that he would have won easily if his sword had been of better quality. He also tells him the Thousand Demon Daggers location and warns him about the demon protecting it.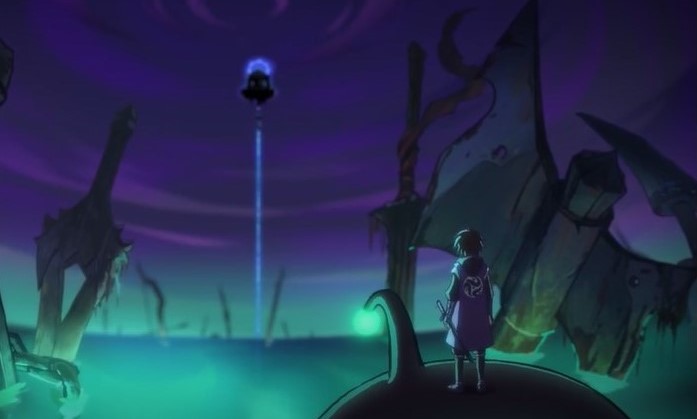 He set's his eyes to obtain it and set off to take the national treasure of the country Shenduan, which was guarded by the Millennium Dark Spirit. The events of how he obtains of the Thousand Demon Daggers are unknown other than he was 15 when it happened. With the best sword in the world, he quickly became the strongest assassin in the world.
A little after this he came to meet a fellow shadow killer Manjusaka and for an unknown reason fell in love with him and became quite obsessed with him. However, he later rejects her due to his assassin code.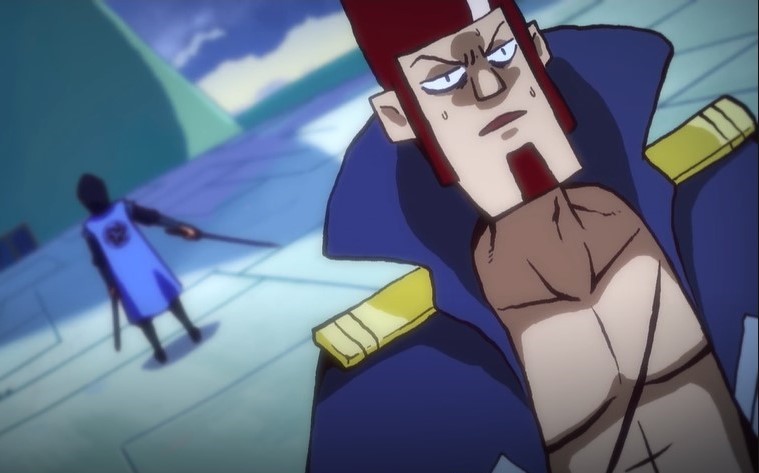 During one of his missions, he assassinated a client of Captain Jack before he was paid, out of anger he charges him. Without any hesitation, Seven counter-attacks and slashed him on his entire torso almost killing him.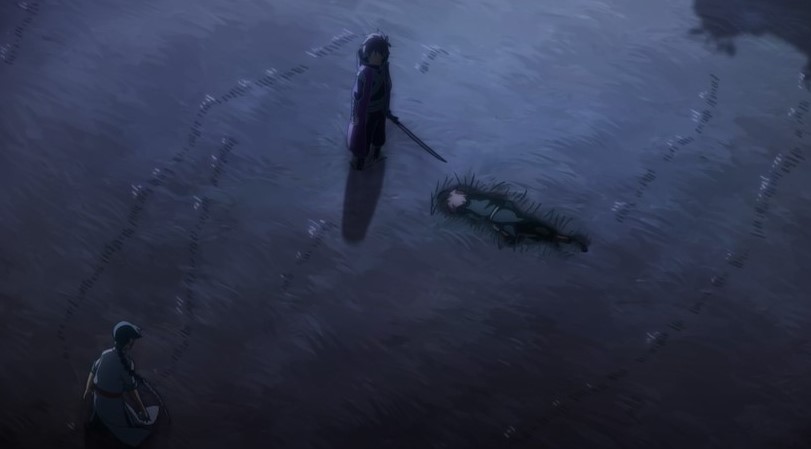 During one other mission his target was the master of the Thumb Martial Arts and right when he was finishing with him his student, Ouyang Zan, was able to witness the killing blow on his master.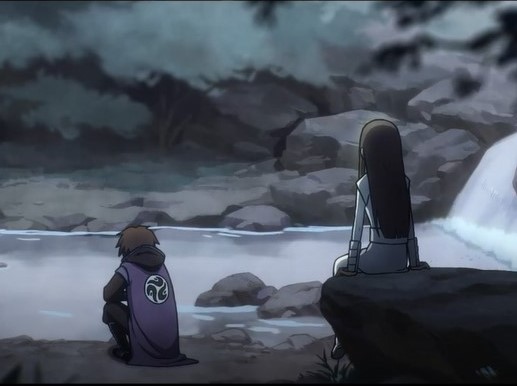 But on one fateful mission, he met the Girl in White, who was targeted by the Xuanwu Assassins, despite him telling himself about the killer's code, he saved her. At a riverside, the two have a talk was she ask him why she saved her and if he wanted to protect her. He said nothing and the two went their ways but Seven's decision to defend her also resulted in him becoming the enemy of most, if not all assassins.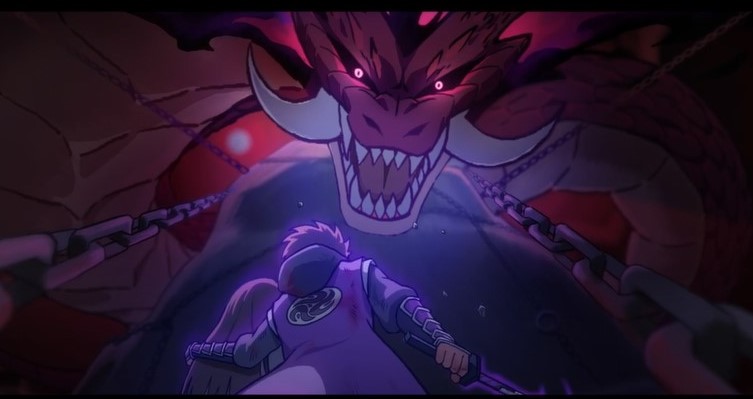 They at some point captured her as set her up bait in a trap meant for Seven, which resulted in Seven. Despite the voice in his head saying no, he saved her and killed the Guardian of Xuanwu. He told her he wanted to protect her and even went as far as to fight against all of the assassins Xuanwu for her.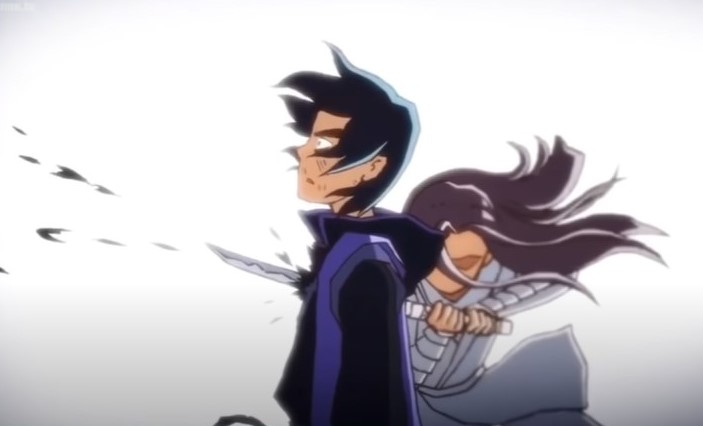 Later on, he was surrounded by assassins on a stone bridge, the Girl in White stabbed him in the chest. Seven then used the Thousand Demon Daggers to destroy the bridge, which led everyone to think he has died, but in reality, he ended up washed up on a beach of Chicken Island. It's there that Xiao Fei found him, slowly dying; so he carries him to a doctor of exceptional skill and saves Seven life, but Dai Bo is now covered in medical debts. This led to him losing his memories and living on Chicken Island as Dai Bo decides to manipulate him into thinking he was an old friend and calls him Seven. Dai Bo also decides to use him to make his money back for the bills.
On Chicken Island [ ]
His first mission as an assassin was to cut Li Sanjin's hair during her wedding ceremony and ruin it. He accidentally cut the husband's hair too and caused a ruckus that resulted in him being chased by an angry mob. After this first job, he met a Stan robot who attacked him once it recognized the token he kept on himself (an accessory with the character «seven» embroidered). According to the robot, anyone who wears that token is an enemy of Stan. The robot is about to reveal Seven's mysterious past when a female assassin decapitates it. She reveals herself to be Thirteen, ranked 38 on the killer list. Thirteen then threatens Seven and asks him why he has the token of the Killer League on him. Fortunately for Seven, they were interrupted by the robot's self-destruct feature.
After this, Seven decides to become one of the best-ranked assassins in order to be recruited by the Killer League which he hopes will lead to clues about his past.
Working as a hired killer [ ]
As an assassin, he meets with many clients. He usually tries to follow through on his orders, whether it's killing or maiming his targets. However, he isn't very competent at killing and often ends up saving his targets or resolving the issue without killing them. He's gained a few friends from his missions, one with him after he refused to kill her and tried to solve her problems. Some of his previous clients or opponents drop by his salon for a haircut too. Due to Seven not completing his missions as requested, he hardly ever received any money to pay the rent which is a running gag throughout season 1.
Stan's Invasion [ ]
At the beginning of episode 8, he is hired by an overweight woman to assassinate her husband if he brings another woman. When Seven tries to confront his target, but was stopped by the impervious bodyguard He Dachun, Dachun points a gun at Seven, this makes Seven hesitant as Dachun tells him to fight like a man. He accepts and takes off his shirt to show how jacked he is to Seven's dismay. He tries to fight him in hand-to-hand combat as the ish ate his scissor's and when he knows he can't win, he tries a sneak attack on his target to try and kill them where Dachun prevents him from killing his target using the Solid as Gold Seven-Day Lock. Seven doubts that he would stay for seven days and tries to get him off, to no success, then a montage shows Sevens day to day life on working him the shop, fighting Thirteen and just accepts that he isn't going to get off. On the fourth day of Dachun technique the two sit on the ocean wooden pear, where he failed to kill his target and the Dachun ask's Seven why he chose a profession as immoral as assassin and Seven tells him it was for money, He Dachun notes that Seven looked very poor, much to Seven's embarrassment. Dachun reveals he became a bodyguard as he wanted to protect people. Seven see something in the distance and Dachun takes a closer look and recalls that it looks like a missile coming to Chicken Island. They both run to the beach where he manages to force himself to release Seven in order to sacrifice his body as a shield to protect the inhabitants. After this, Seven stand's in the of what is left of the pear where he comes face-to-face with the Prince of Stan was at first he throws his scissor's where he turns his right hand into a sword and destroys his scissor's, he asks if he was the one who stopped his missiles, Seven doesn't say anything to where the Prince of Stan uses' he faces recognition and was able to recognize Seven's past identity he shoots him with a blast out of fear we're at the last second Xiao Fei was able to save him and take him to the boat where Dachun was out of commission, knowing that he couldn't fight anymore he hired Seven to kill the Prince of Stan and protect Chicken Island to were Daio Bo say's that they weren't gonna take that mission but Seven wants to protect Chicken Island, and Thirteen wants the bounty on the Prince's head since they are from opposing countries. However, the Prince's robot form is too strong and they are both pushed back. They come to each other's aid several times, until Seven is knocked unconscious. After Seven's flashback of the girl he tried to protect in the past, his old self is awakened and believes Thirteen is the same girl. He hugs her and goes to defeat the Prince. Because of the complete flip in personality, Thirteen is too surprised to do anything but blush; however, she quickly regains her composure and relays the battle to her master who orders her to kill Seven and take his sword. In the end, Seven falls unconscious again, but Thirteen hesitates to take his life (since he saved her) and leaves with just his sword. She also orders a new pair of scissors for him since the old ones were destroyed in the fight.
Abilities [ ]
Qi controlled scissors [ ]
Seven is able to use Qi and control a pair of scissors with his mind, but he requires certain hand motions to control them. He's also able to separate the scissors into two and put them back together with ease. It's his favorite weapon which he become a master of it, later in the series, it was known that the scissors may be less heavy if he puts Ki with it
Thousand Demon Daggers [ ]
In the past, his weapon of choice was the Thousand Demon Daggers, a magical blade he used to cut through his target's defense back when he worked for the Killers League.
In his present state, Seven is unable to utilize the full potential of the sword. However, during his battle with the Prince of Stan, it can be seen that Seven was able to perform many creative moves, such as destroying the Prince's shield by re-materializing the blade and extending it to slice through a huge robot. Seven also uses the blade against Captain Jack by deconstructing it and using a thousand pieces as bullets. This Sword was known to be guarded by an evil spirit which he defeated at only 16 years old at the time.
Solid as gold: Seven day lock [ ]
(A signature move stolen from He Dachun) He jumps and holds his target and locking on them for seven(?) day's. Unlike He Dachun though he is not indestructible (as he lacks the art style) with his goal with the move is to immobilize his target to buy enough time to strike with his scissor, like he did in his battle with The Price of Stan, although most of the time it would need to be the sneak attack as he lacks the speed, as seen with his battle against Captain Jack, and unlike Dachun variant of the move he can get out of this lock whenever he likes
Gaiba Egg [ ]
The Gaiba Egg was given to Seven by Dai Bo, allowing Seven to transform into anything he is thinking of at the moment, but unfortunately, he can only copy the appearance of it and does not gain any of its abilities.
Hair Wax No. 7 (Formally) [ ]
One of Dai Bo's inventions. It contains a lethal dart that can be fired by opening the container and triggering the switch on the container's side. The user of Hair Wax No. 7 can pretend to be styling their hair while using this gadget, so it increases the user's stealth. This gadget was first introduced to the series during Super Scissors. Seven is the only character in this series who wields or owns Hair Wax No. 7 (beside Dai Bo). However, in season 2's third episode, Seven gives the hair wax to Meow Cai.
Appearance [ ]

Seven has black shoulder-length hair which is mainly tied up in a chicken comb-like bun. Seven wears a white hoodie with kangaroo pockets, black shorts, and black shoes with white soles. On the back of his hoodie, we can see the number 7 in Chinese (七) in a circle, both in a large size and in black. And on the front, there are the numbers 6 and 7 in Chinese (六七) in the vertical position, in a small size, on the left side of the hoodie and in black. He has noticeable eye bags and black thick eyebrows. Seven generally wears a laid-back and innocent expression, becoming serious only in rare situations.
When Seven was a ruthless assassin back in the Killer League, he wore a sleeveless hooded purple hanfu gown, as well as black inner robes. On his back is the symbol of the Shadow Assassins. On the sleeves of his robes are traditional arm guards, he also has a purple belt on his waist. His hair was untied and always messy, reaching his shoulders, and he retained the dark eye bags. His expression was cold and ruthless, never showing even the slightest bit of emotion.
Relationships [ ]
The Girl in White [ ]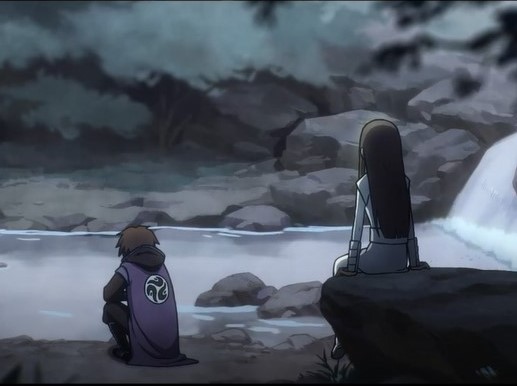 Seven and the Girl in White had a very close relationship. The Girl in White once asked who Seven wanted to protect, since he must have somebody if he was so strong. Seven replied that he wanted to protect her, however, after washing up on Chicken Island he doesn't seem to have any memory or feelings related to her.
Dai Bo [ ]
Dai Bo is supposedly Seven's oldest friend, and although they're often found arguing, they share a close relationship. Dai Bo and Xiao Fei found Seven washed up on a beach two years prior to the start of the series and rescued him. It is assumed that the pair tried running several businesses on Chicken Island, but none were very successful. Seven also reminds Dai Bo of his old friend Da Fei, as they share many of the same convictions and a good heart.
Xiao Fei [ ]
Xiao Fei debuted as a small, round escape device for Seven, but throughout the series, Xiao Fei has helped tremendously in his many chicken forms. Seven is always impressed by Xiao Fei's many abilities and the two often tag-team in fights.
He Dachun [ ]
DaChun and Seven get along quite well, despite one being an assassin and the other being a bodyguard. They met while Seven was attempting to assassinate DaChun`s charge, and they shared many special moments together while in the Seven-Day Solid Gold Lock. They continue to have short interactions throughout the rest of the series and even fight together against Redtooth.
Plum blossom Thirteen [ ]
Seven meets Thirteen in one of the first episodes of season 1 when he confronts a Stan robot. They meet throughout the series, often with Thirteen trying to kill Seven. After Seven cuts Thirteen's mask in two, revealing her face, he is smitten and often tries to make advances on her to no avail. After the assassination attempt on Mad Bark, Thirteen chases Seven as he was transformed into Mad Bark at the time. After a brief fight, they share an accidental kiss. Thirteen is disgusted and swears to kill him, but he is enamored and tries asking her out to tea instead.
The next time the two are seen together is in the Prince of Stan fight. Seven wants to protect Chicken Island, and Thirteen wants the bounty on the Prince's head since they are from opposing countries. However, the Prince's robot form is too strong and they are both pushed back. They come to each other's aid several times, until Seven is knocked unconscious. After Seven's flashback of the girl he tried to protect in the past, his old self is awakened and believes Thirteen is the same girl. He hugs her and goes to defeat the Prince. Because of the complete flip in personality, Thirteen is too surprised to do anything but blush; however, she quickly regains her composure and relays the battle to her master who orders her to kill Seven and take his sword. In the end, Seven falls unconscious again, but Thirteen hesitates to take his life (since he saved her) and leaves with just his sword. She also orders a new pair of scissors for him since the old ones were destroyed in the fight. In episode 2 of the 2nd season, Thirteen goes to take Seven's life as promised to her master. As usual, Seven is his slippery self and ends up getting chased across Chicken Island. Thirteen and Seven make a deal that if he falls to the ground in 3 more attacks, he must leave Chicken Island forever (as she does not want to have to kill him). Seven proposes that if he wins, Thirteen has to go to the beach with him. As Thirteen is about to attack again, Seven notices an assassin in a nearby tree (Plum blossom Eleven) and tries to protect Thirteen. This results in the two of them slow dancing as he deflects assassin needles with her hair blade. Once again, Thirteen is caught off guard by Seven's sudden seriousness and is seen blushing. Back to normal and emotionless, she leaves without taking his life and gives him the list of assassination targets on the island, if he wishes to protect them. He thanks her for the new pair of scissors wondering what he should wear to the beach.
In episode 5 of the 2nd season, Seven faces a rematch against Captain Jack and wounds himself in order to make up for the scar he gave Jack years ago. Watching from the sidelines, Thirteen comes to rescue Seven but is attacked by Jack. Seven, regaining his old personality for a few seconds, uses the Thousand Demon Daggers to fend off Jack and save both of them before falling unconscious. Later that night, although with severe injuries. He flies with Xiao Fei to where Thirteen is staying (in a huge tree) and shyly gives her a dress he had bought at the store for their supposed date at the beach. After looking inside the bag, Thirteen is alarmed at its contents and vows once again to kill Seven. In episode 7 of the 2nd season, Eleven lures Seven to the beach with a fake note from Thirteen. Thinking it's a real date, Seven takes a day off from the barbershop and adorably prepares music, an outfit, and even some roses (although they are black roses). When it comes time for the date, a disguised Eleven stabs Seven with a poison dagger and unsuccessfully tries to kill him before fighting DaChun. Afterward, Chairman Jiang comes to take down Eleven, but Thirteen arrives to save her sister. Seeing the real Thirteen arrive, Seven is re-energized and halts the battle to perform the things he had prepared for the date. He DaChun and Chairman Jiang are stunned onlookers as Seven dances, sings, and offers Thirteen a rose with the English words «Oh miss Mei, this rose. is for you». Despite a black rose signifying hatred and death among other nasty things, Thirteen is charmed. But never losing her assassin mindset, she vamooses Seven's outfit to distract Chairman Jiang before escaping with Eleven.
By the last episode of the 2nd season, Thirteen now has a much better idea of who Seven is, and respects him a lot more. Instead of thinking that he's a bumbling idiot, she realizes that he is a lot more capable than he shows, especially after the fight against Redtooth. Although his attempts at romance are feeble, they have an innocent charm that seems to have won Thirteen over, at least somewhat. In Thirteen's past, she received very little love from her family or her master and grew up to suppress her emotions in the name of assassination. Seven is likely the first person she encountered who didn't care about who she was and had unconditional feelings for her. At the very end of the 2nd season, Thirteen is seen waiting for Seven in the dress he bought for her by the ocean, implying that she has also developed feelings for Seven.
As it stands, their relationship is very complicated due to Seven's past and relationship with the killers of Xuanwu. He was a former comrade of her master, who once ordered her to kill Seven. Since Seven reclaimed part of his memories after the battle with Redtooth, he may be warier of any kind of relationship after vaguely remembering the time he was betrayed. With Seven traveling to Xuanwu to claim the head of the Chief of the Killer Association. It is likely that there will be even more complications on the road ahead, both in the future and hidden in the mysterious past.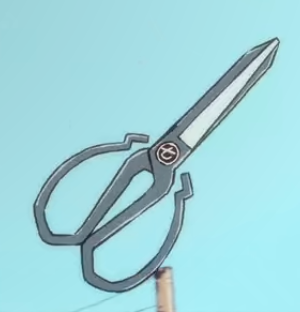 But in season 3 we see that she's given an order by her master to kill Seven with ancient dark ice which she's unaware of. However, if she's unable to stab him, it will be an end to her assassin's life and her master will disown her. She stabs him and he goes berserk. Then a blind monk comes to kill Seven, but Thirteen tries to save Seven but she's powerless in front of Blind monk. Instead, she gets caught in the attack, and even though Seven saves her though in berserk mode. the blind monk can foresee the future. However, he didn't see Seven saving Thirteen, so he thinks that it's inaccurate.
After that Seven is surrounded by all the assassins, but he tries to hide in an abandoned hut, but they're also he's attacked and thirteen comes to rescue and applies for medicine that Seven had given her when she stabbed her with ancient dark ice. There they talk with each other and how seven doesn't want to forget the memories though they are very painful now due to the effect of dark ice. In the last episode, thirteen is shown to have saved seven from another Shadow assassin, but she's languid.
Furthermore, both her swords broke due to the shadow assassin's attack, but still, she's able to land a blow on Seven's face allowing him to regain consciousness. He then uses a thousand-shard sword to form her broken sword which landed a blow on the shadow assassin's face.